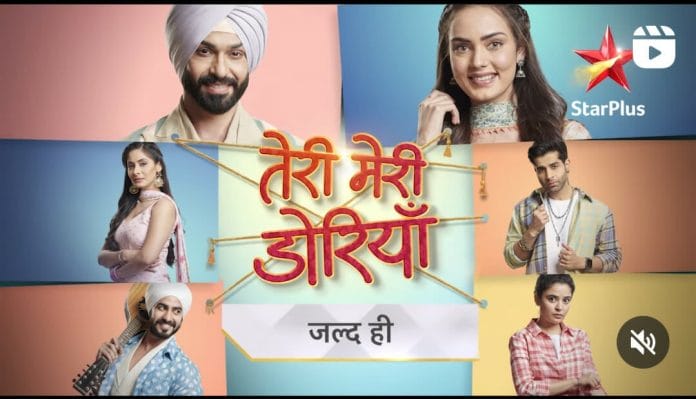 Teri Meri Doriyaann 10th January 2023 Written Update on TellyExpress.com
The episode starts with Seerat worrying about nothing to wear for the Brar's function. Kirat taunts Seerat. Santosh asks Kirat to bring water. Sahiba returns to the house. Sahiba sees Santosh and Kirat talking about who sent the passes. Sahiba advises them not to go to Brar's function as they are very arrogant. Seerat comments on it. Santosh says they have to worry about what Seerat has to wear for the function. Sahiba assures Seerat that she will prepare a new dress for her.
Gary comes to Angad and asks Angad what is he thinking about? Angad says he is just about to catch the person who leaked the news but he ran into
Sahiba and missed catching him. Gary is shown to coming to a servant gives him money and takes his phone and destroy the SIM card. Gary asks the servant if the sim is on his name. The servant says no. Gary thinks now Angad will never be able to find him.
Gary asks Angad to leave it and shows the news video in which they are talking about the decoration that Sahiba made.
Seerat worries about the new dress. Sahiba gives a dress that she made. Santosh and Seerat praise Sahiba for her artwork saying she is a magician.
Angad comes to Manveer. Manveer says to Angad to go and change his dress and says she prepared a dress for him. Gary changes to a new dress. Gurleen praises his dress. Manveer says to Gary that this is the dress that she sent for Angad to his room. Gary apologises to Manveer and says he just took this outfit from Suresh. Suresh comes and says to Gary that it is Angad's dress and this is his dress. Gary says to Manveer that he will change in a minute. Angad says there is no need and says the dress looks good on him and he will wear another dress. After Angad and Gary leave. Gurleen says to Manveer that Gary is liking everything that Angad likes and says to Manveer to make sure that they don't love the same girl. Manveer says she will never allow it to happen.
Seerat wears the new dress that Sahiba made. Sahiba and Santosh praise Seerat. Seerat worries about not having matching earrings for this dress. Sahiba says she will think of something. Santosh says to Kirat to go and get ready as she will go with Seerat. Kirat doesn't agree at first but Santosh convinces her. Kirat agrees to go with Seerat on the condition that she will wear the dress she likes.
Angad says to the decorators that there is something missing. The decorator says to Angad that they did everything according to his list. Angad says to decorators that he only gave the list as a basic reference. Angad tells the decorators to do something to make it perfect.
Veer comes to Angad and praises him. Gary comes and teases Angad that he will never find a girl if he wants a perfect match for himself. Veer asks Angad the qualities of his dream girl. Angad says to Veer and Gary the qualities of his dream girl that she needs to be intelligent, classy and values family very much. Gary teases Angad asking if he is going to marry 10 girls. Veer reminds Angad that the girl who he likes should also be good by heart. Sahiba gives her earrings to Seerat.
The decorators come and says to Angad that they need to add more lighting. Angad says they need to reduce the chandeliers to make it perfect. The decorations do as Angad says. Sahiba helps Seerat to get ready. Kirat teases Seerat. Seerat asks Kirat to shut up. Santosh gets ready to the function. The family praises Santosh.
Episode ends.
Precap – Santosh, Seerat and Kirat come to the Brar's function but Santosh forgets the passes in the house. The guards wouldn't allow them to go inside. The guards says to Angad that some people are trying to enter without passes. Angad says to the guards not to allow anyone to come in without the passes. The guards push Santosh away. Sahiba catches Santosh and takes Santosh into the party.
Click to read