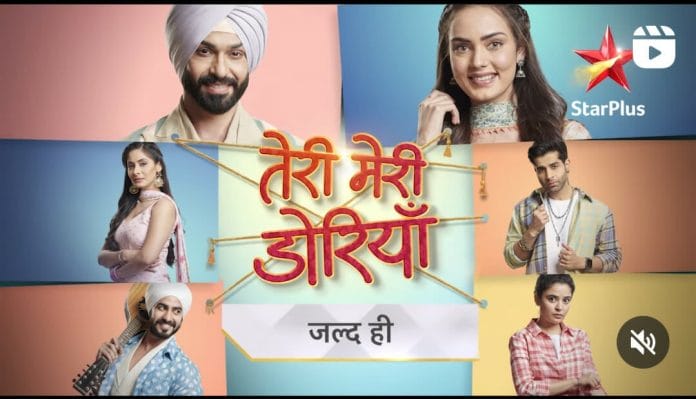 Teri Meri Doriyaann 11th January 2023 Written Update on TellyExpress.com
The episode starts with Santosh asking Sahiba to come with them. Sahiba refuses. She asks Seerat to check her final look and asks are you happy? Seerat feels happy seeing herself in the mirror. Santosh says once Seerat gets married in a rich family then Seerat will find suitable matches for you both then I will tell Gul and Nimmi that I will do what I say. Sahiba says she doesn't like the world of the pretense of the rich so wants to stay away from them. Kirat says ditto. Santosh says you will ger married one day so better if you are married to a rich family otherwise you will live like me. Sahiba says she wants to earn fame with her hard work. Santosh says enough. She prays to Baba ji to pass Seerat. Sahiba says it's not good if they went in auto. Sahiba gives them money to book an ac cab. They leave.
Santosh and her daughters reach Brar's house. Santosh feels happy seeing the mansion. Seerat says her makeup is getting spoiled. Santosh asks Guard to arrange a cooler outside. Guard asks her to show their passes. Santosh checks the passes and notices passes are not in her bag. Seerat starts live and interacts with her followers.
Sahiba sets all the house. Tai ji asks her to eat food. Sahiba is about to eat food and notices Santosh forgot passes at home. Seerat notices her mom's state and disconnects the live. She asks her mom about the passes. Santosh says passes are not with them. Sahiba runs out with passes and collides with her dad. Ajit asks where is she going in a hurry. Sahiba tells him Santosh forgot the passes and she is going to give them passes.
The guards wouldn't allow Santosh and her daughters to go inside. Santosh fights with someone that they are their passes. Angad hears the noise. He calls Guard and asks him what's happening near the entrance. The guards say to Angad that some people are trying to enter without passes. Angad asks guards not to allow anyone to come in without the passes. The guards ask Santosh to leave. Seerat blames Santhosh for their insult. Kirat asks Seerat to not create a scene and let us go home. Seerat says they can return taking passes.
Santosh says the party will end before we return so I will workout something and we will go inside the party. Santosh does drama that Akaal called them inside. The Lady guard stops her but she creates a scene and doesn't listen to them then the guard pushes Santosh away. Sahiba catches Santosh. She takes Santosh with her and asks the Guards if they want to behave evilly like Angad. Guard says she doesn't have passes. Sahiba gives her passes. Santosh thanks, Sahiba. Guard apologises to them. The main guard comes there and asks why they didn't tell them that they are Sahiba's family. They enter the party proudly.
Episode ends.
Precap – Santosh asks Sahiba to teach Gidda dance to Seerat. Seerat performs on stage seeing Sahiba. Angad joins Seerat on the floor. Sahiba notices a nail on stage and she rushes to take it. She takes it before Seerat steps on it and Seerat falls in Angad's arms.
Click to read