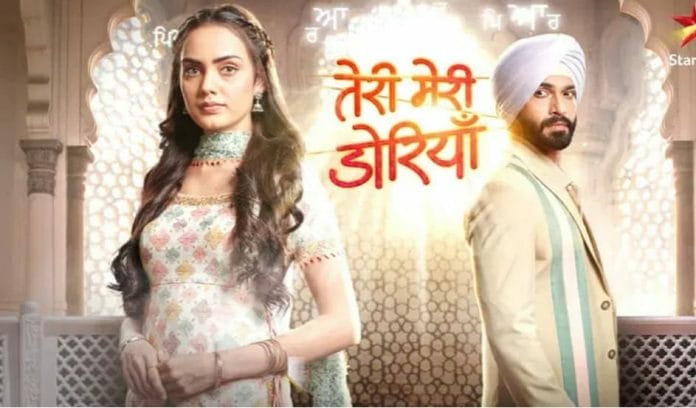 Teri Meri Doriyaann 11th November 2023 Written Update on TellyExpress.com
The episode starts with Seerat thinking if the truth didn't come out then she would be going with Angad instead of Sahiba. Seerat sees Sahiba talking on the phone. Seerat comes to Angad and tries to talk to him. Angad requests Seerat to stay away from him. Seerat questions Angad that he is also upset with Sahiba but why is he taking Sahiba with him? Angad reminds Seerat that Sahiba is his wife and it is his responsibility to take care of Sahiba. Seerat reminds Angad that he also made a promise that he will take care of her. Angad says he knows and says he will take care of her but there will be no kind of relationship between them. Sahiba sees all of this from a distance. Seerat leaves from there. Sahiba decides to gift the watch that she ordered for Angad tomorrow.
The next day, Prabjyot sees that a watch came to the Brar mansion but there is no note on the watch. Jasleen sees the watch and notices that it's a cheap watch. Jasleen thinks it's a watch ordered by some servants. Jasleen asks Sukhdeep to ask the servants who ordered this watch. Sukhdeep agrees and leaves from there.
Sahiba comes and says she ordered this watch for Angad. Prabjyot and Jasleen laugh at Sahiba as she is going to gift a cheap watch to Angad. Manveer also comes and sees the watch. Manveer says to Sahiba that Angad will never wear this watch. Manveer also sees there is something written on the back of the watch. Manveer gets upset seeing it and throws the watch onto the floor. Sahiba gets emotional seeing that the watch is broken. Manveer says to Sahiba that Angad is only taking care of her because she is his wife and says Angad doesn't love her. Jabjyot comes and admonishes Manveer's behaviour as she broke Sahiba's gift. Sahiba vows in front of the whole Brar family that she will wipe off all the cracks that emerged in their relationship.
Angad and Sahiba get ready to leave for the airport. Jasleen asks Seerat to send off Angad and Sahiba to the airport. Seerat suddenly gets a call and she takes a call. Seerat is shown to be stunned after taking that call. Seerat leaves from there. Angad and Sahiba go to the airport.
In Mumbai, Sahiba says to Angad how excited she was with her first flight. Angad asks Sahiba to tone down her voice. Sahiba asks Angad to speak loudly? Angad closes her ears so that she will regain her hearing.
Driver Nitin Yadav sees Angad and Sahiba and he calls someone and tells them about it. The other person on the phone asks Nitin not to make a mistake and bring Angad and Sahiba to them. Nitin Yadav agrees. Nitin Yadav introduces himself to Sahiba and Angad as their driver and he takes Sahiba and Angad's luggage.
Seerat says to other person on the phone that she can't meet him. Seerat later agrees to meet him after talking to him.
Episode ends.
Precap – Sahiba opens the car door for Angad and gives him a bouquet. Angad doesn't accept her flowers. When Angad is about to leave from there. Someone mistakes Angad for Sunny Sood.
In the office, Sahiba tries to apologise to Angad but he doesn't accept her apology. Someone mistakes Angad for Sunny Sood and offers him money.
Sahiba tries to propose to Angad but Sunny Sood's fiancé comes and interrupts their romantic moment.
Click to read