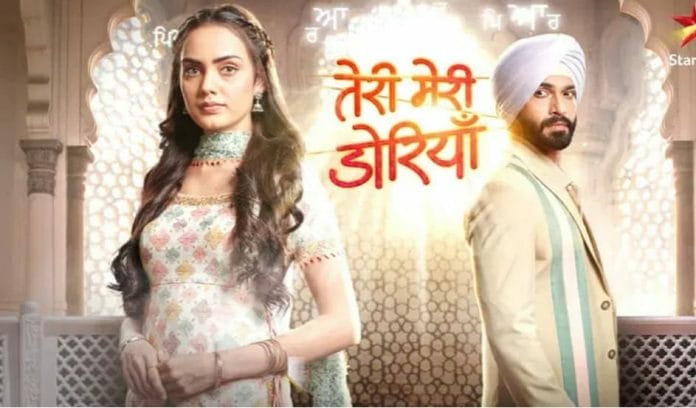 Teri Meri Doriyaann 12th November 2023 Written Update on TellyExpress.com
The episode starts with Sahiba sharing her first flight experience with Angad. Angad closes Sahiba's ears so that she can regain her hearing.
Nitin Yadav calls the hotel manager and says Angad and Sahiba have reached the airport. The hotel manager asks the driver to bring Angad and Sahiba to them without a mistake. Nitin Yadav agrees.
Nitin Yadav introduces himself to Angad and Sahiba and takes their luggage.
Seerat comes to meet the mysterious person hiding her face. Seerat questions him why did he call her here and what does he want?
Angad and Sahiba check in to their hotel. The hotel manager shows Angad and Sahiba their room.
Sahiba asks Angad why did he book this big of a room? Angad says there are two rooms and they are going to stay in different rooms and he will keep an eye on her. Sahiba teases Angad.
The hotel manager calls the mysterious person and says Angad has checked in to their hotel and now he will be under their watch. The mysterious person cuts the call.
Kirat shares the good news with Sahiba that she is selected for the state championship. Sahiba praises Kirat. Sahiba says there is decoration of flowers on the bed like love birds and says to Kirat about it. Kirat teases Sahiba.
Sahiba sees Angad has come out of washroom with a towel wrapped around him. Angad says he is going to stay in this room and asks Sahiba to go to other room. Sahiba says she will take this room. Angad tries to go to the other room but the towel falls down.Sahiba sees Angad naked. Sahiba apologises to Angad. Angad tries to pick up the towel himself but he couldn't because of the wound. He gets himself wrapped around a curtain and falls on the bed. Sahiba helps Angad. Sahiba hears knock on the door and she goes to check it out. The hotel manager asks Sahiba if she needs any help. Sahiba says they don't need anything and sends him away.
Sahiba comes and helps Angad in dressing his wound. Sahiba sees that Angad is feeling shy and so she teases him.
The waiter sees Angad and Sahiba have come out of their room and he informs his boss on the phone. Sahiba asks Angad if they are going to the beach? Angad says they are not going anywhere.
Sahiba doesn't understand the menu and she speaks to Angad. Angad says it is just Jelabi that she just spoke off. Sahiba comments on the menu. Angad goes to take a call. The waiter is shown to be talking to a foreigner. The foreigner takes Angad's photo.
A person comes and greets as if he is Angad's friend and takes Sunny Sood's name.
Episode ends.
Precap:- Sahiba opens the car door for Angad and gives him a bouquet. Angad doesn't accept her flowers. When Angad is about to leave from there. Someone mistakes Anagd for Sunny Sood.
In the office, Sahiba tries to apologise to Angad but he doesn't accept her apology. Someone mistakes Angad for Sunny Sood and offers him money.
Sahiba tries to propose to Angad but Sunny Sood's fiancé comes and interrupts their romantic moment.
Click to read