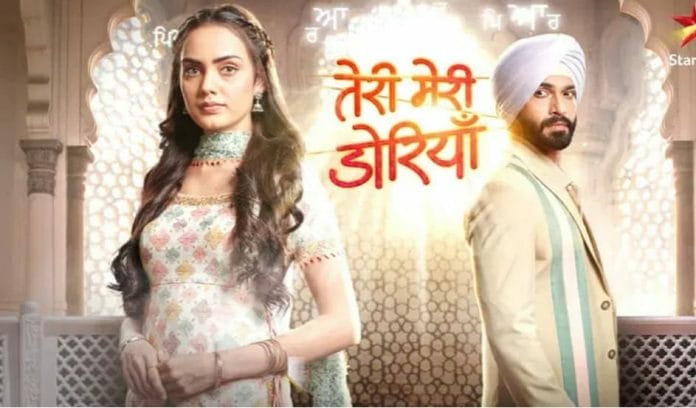 Teri Meri Doriyaann 13th November 2023 Written Update on TellyExpress.com
The episode starts with Sahiba looking at the menu and commenting on it saying the hotel people complicated this menu. Angad says just like their relationship. Angad gets a call and he goes to take it.
The waiter tells something to a foreigner showing Angad. The foreigner starts taking pictures of Angad.
Kirat is shown to be wrestling with Sweety. Kirat sees that Sweety is tired so she asks Sweety to go and take a rest. The coach asks Kirat if she is taking a rest. Kirat says Sweety is taking rest not her. Kirat invites Ritu to a bout. The coach ogles Kirat.
Sahiba requests Angad that they should go to the beach. Angad says he is busy. Rakesh comes and introduces himself to Angad and talks as if he is his friend. Angad says he doesn't know him. Rakesh calls Angad with the name Sunny Sood. Angad says he is mistaken and sends him away.
The hotel manager calls the mysterious person and says he is going to Angad and Sahiba's room to fix the microphone to know about what are they talking about. The waiter keeps an eye on Angad and Sahiba for the manager.
The hotel manager try to open Angad and Sahiba's room door but he couldn't open it.
Angad while talking on the phone puts too much chilli in his food. Angad eats it and he feels too much spicy. Sahiba sees this and goes to get an ice cube for Angad. Sahiba puts an ice cube in Angad's mouth so that he can calm down. Sahiba later teases Angad. Angad asks the waiter to get the bill. The waiter agrees and leaves from there.
The waiter comes to the hotel manager and says Angad and Sahiba are coming to their room. The hotel manager tells the waiter to stall Angad and Sahiba for 10 min.
Seerat says to Sukhdeep that she will serve all of the guests. Seerat while putting the tray on the table spills coffee. Seerat apologises to everyone and cleans it. Seerat sees that the mysterious person is calling her but she doesn't attend the call.
Inder says to the Brar family that Sahiba and Angad are spending their time well. Inder also shows the photo that Sahiba sent him of Angad eating spicy Food. Manveer worries about Angad seeing the photo.
Prabjyot sees that there are a lot of missed calls on Seerat's phone and she tries to check it but Seerat takes her phone and leaves from there.
Seerat argues with the mysterious person on the phone and agrees to meet him tomorrow.
The hotel manager puts a microphone in Angad's room and leaves from there.
Angad sees Sahiba isn't in front of him and searches for Sahiba. Angad gets to know from the hotel staff that Sahiba went towards the beach so he goes looking for Sahiba. Angad worries about Sahiba.
Episode ends.
Precap:- Sahiba opens the car door for Angad and gives him a bouquet. Angad doesn't accept her flowers. When Angad is about to leave from there. Someone mistakes Anagd for Sunny Sood.
In the office, Sahiba tries to apologise to Angad but he doesn't accept her apology. Someone mistakes Angad for Sunny Sood and offers him money.
Sahiba tries to propose to Angad but Sunny Sood's fiancé comes and interrupts their romantic moment.
Click to read