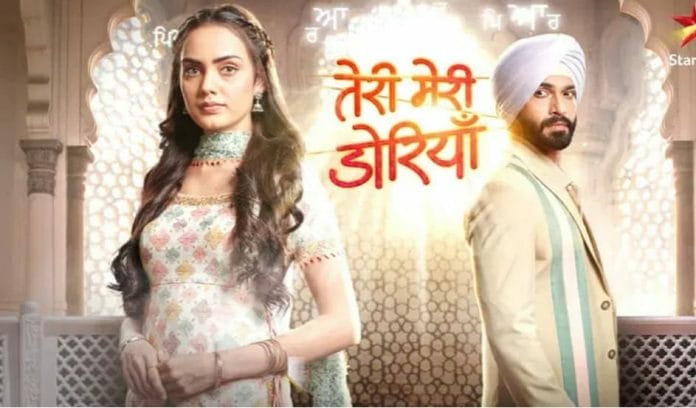 Teri Meri Doriyaann 15th November 2023 Written Update on TellyExpress.com
The episode starts with Sahiba assuring Jabjyot that she is trying to sort out Angad and her relationship. Sahiba after talking to Jabjyot cuts the call. Sahiba overhears the waiter talking about himself keeping an eye on Angad. Sahiba comes to the waiter and questions the waiter what is he talking about? The hotel manager calls the chef Angad and asks him to prepare an order. Sahiba asks the hotel manager if his chef's name is Angad. The hotel manager says yes and covers up for the waiter. Sahiba argues with the hotel manager asking him what is going on in his hotel. The hotel manager says it's just a coincidence and covers up. Sahiba later leaves from there.
The hotel manager slaps the waiter and scolds him for his carelessness.
Sahiba comes to Angad and asks Angad to have this soup. Angad says he doesn't want anything. Sahiba says to Angad that Jabjyot asked him to have this soup. Angad hearing this agrees to drink soup. The hotel manager tries to eavesdrop on their conversation but he couldn't hear anything through the microphone.
Sahiba tries to talk about Angad about the waiter but Sahiba notices that someone's shadow outside their room door. Sahiba tries to check it out but she sees someone running away from the corridor.
It is shown the hotel manager hides from Sahiba. Sahiba decides to tell Angad what happened here. Sahiba comes to the room and finds Angad sleeping so she decides to tell him tomorrow.
The next day, Sahiba hears a voice in her room and she wakes up and she comes out to check it out. Sahiba asks who are they? Angad says he called the hotel staff for cleaning. The hotel staff later leaves from there.
Sahiba says to Angad what happened last night in the kitchen. Angad says she is just overthinking and doesn't listen to Sahiba.
Seerat comes to Fandom Park Hotel to meet the mysterious person. Seerat asks the mysterious person why did he call her here?
Seerat says this is too risky and she will not do it. The mysterious person behaves rudely with Seerat.
Angad and Sahiba get a gift from Rakesh as they sit in garden eating food. Angad seeing that the gift he got is for Sunny Sood. Angad tries to throw away the gift but Sahiba stops Angad saying this is the first gift they got together as a couple and says this might be sign from God asking them to work on their relationship. Angad reminds Sahiba how much she hurt him and says he can't forget that she was about to sign on the divorce papers.
Episode ends.
Precap:- Sahiba tries to propose to Angad in a grand way but Some goons come and ruin their romantic moment.
Click to read