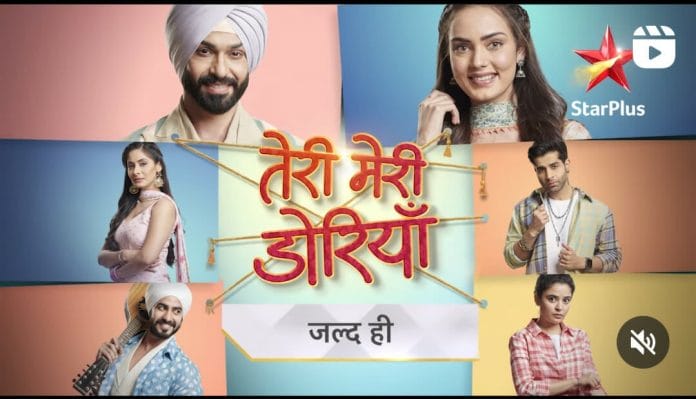 Teri Meri Doriyaann 16th January 2023 Written Update on TellyExpress.com
The episode starts with Manveer asking Santosh who is she and why is she looking into Angad's room sneakily? Gurleen says to Manveer that she is Seerat's Mom. Santosh also introduces herself as Seerat's mom. Manveer comes and asks Seerat how is her ankle? Seerat says it is fine all thanks to Angad ji. Angad says to Seerat that she can just call Angad. Jasleen thinks Seerat is something as she is flirting with Angad right infront of Manveer. Manveer says to Angad that Akaal is calling him and asks him to go. Angad leaves from there. Seerat hides her earring under the pillow so that she will have a chance to talk to Angad again.
Akaal recalls what Inder said to Jabjyot. Jabjyot shows the gift that Inder gave to Akaal. Akaal says Inder thinks that he didn't do anything for him. Jabjyot comments on it.
Garry comes and asks Angad what is he doing with Seerat? Angad says he is just helping her nothing more than that. Garry teases Angad after seeing this. Angad says there is nothing like that and praises Seerat infront of Garry. Angad says he never saw a gem like Seerat till now. Garry decides to steal Seerat from Angad as Angad stole this project from him.
Angad comes to Jabjyot. Jabjyot asks Angad what should we do about the dance competition as nearly all the participants didn't dance till last. Jaspal and Veer advise Angad to make it draw. But Angad thinks he should make Seerat the winner as she danced till last. Garry and Angad argue about it. Akaal stops them and gives the right of final decision to Angad as he hosted this competition.
Ajit comes and asks Sahiba if she made the arrangement for the passes. Sahiba tries to lie but Ajit catches her lie. Sahiba asks Ajit how does he know about the passes? Sahiba asks if Kuljeet told him? Ajith nods his head. Ajith asks Sahiba if she did this for her mother and sister. Sahiba says she did it for herself as she wanted see the happiness in their eyes. Ajith comments on it. Ajith asks Sahiba why is she down? Sahiba recalls about Angad's behaviour and says it is nothing. Ajith still tries to find out why Sahiba is feeling down. Sahiba says to Ajith she is fed up with their questioning. Ajith and Dadi tease Sahiba.
Santosh talks to Gurleen and Manveer. When the servant is about to serve Tea to Seerat. Santosh stops the servant and says Seerat doesn't drink tea as she is dieting. Gurleen comments on it and says the dieting doesn't suit Punjabi women. Santosh comments on it. Jasleen asks Santosh whose guests are they? Santosh says they sent invitation how couldn't they come. Gurleen says to Manveer that they might be guests of Inder. Santosh says yes. Jasleen thinks Santosh is fooling them.
Ajith asks Sahiba whose house did she went to in the morning. Sahiba says she went to the Brar's and did the decoration that's why they got the passes. Ajith asks Sahiba if the mansion is big. Sahiba says the mansion is big but not the people in it. Ajith asks why is she talking like that. Sahiba recalls about Angad and Kiara' s behaviour. Ajith and Dadi worry about Santosh and Seerat as they didn't come to the house till now. Ajith comments on Santosh.
Episode ends.
Precap – Angad while sleeping on the bed area earring. Angad thinks there is something special in Seerat. Aunt asks Sahiba where are her earrings. Sahiba says the last time she saw her earrings are when she gave them to Seerat. Sahiba decides to search for the earrings. Santosh says Seerat will find the earrings and bring them back as she lost them. Seerat leaves to the Brar mansion. Sahiba sees that Seerat left her phone here so she decides to go to Brar mansion as she doesn't trust the Brar's
Click to read