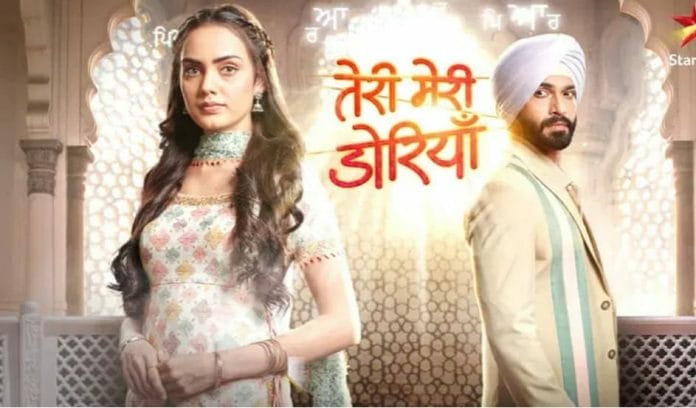 Teri Meri Doriyaann 17th November 2023 Written Update on TellyExpress.com
The episode starts with Angad coming to the location where Sahiba planned a surprise for him. Angad sees that Sahiba put a new nickname for him. Angad hears Sahiba singing a song. Angad searches for Sahiba but Sahiba plays hide and seek with Angad. Sahiba comes in front of Angad and dances for a song. Sahiba dances around Angad.
The foreigner who spies on Angad all the time says to the Goons that he knows where he is looking at Angad's photo. The foreigner takes the Goons to Angad.
Sahiba asks Angad how is she looking? Angad says she is beautiful. Sahiba asks Angad if he doesn't understand why she did all of this? Sahiba says she was the one who misunderstood him and turned face against this relationship. Sahiba says she needs to give the respect that this relationship deserves. Sahiba apologises to Angad. Sahiba says to Angad that she would like to tell him what is in her heart. Sahiba says when she married him she thought she made the biggest mistake of her life but it turned out to be the most beautiful mistake she ever made. Sahiba says to Angad that she would like to spend her whole life with him and she would like to leave her last breath seeing him. Sahiba asks Angad if he also feels the same for her. The goons come and attack Angad.
The Goons ask Angad how could he enjoy his time with his wife without giving their money to them. Angad asks the Goons if they are talking about Sunny Sood. The Goons says yes. Angad tries to explain to the Goons that he is not Sunny Sood but they Goons don't believe him. Angad fights with the Goons. The hotel manager brings his staff and takes the Goons away from there. The hotel manager apologises to Angad. Angad lashes out at the manager as some goons came and harassed him. The manager apologises and says it's not his fault that someone is mistaking him for Sunny Sood.
Angad and Sahiba go to their hotel room. The hotel manager brings security guards and says to Angad that they will stay here so that they will not be harassed again. Angad agrees.
Pam calls Angad and says to Angad that Kannam Agarwal has come to the hotel to give him a passcode and says without that passcode he will not get that diamond. Angad agrees.
Angad asks Sahiba to stay in the room and he goes to reception to meet Kannan Agarwal.
Sahiba goes after Angad. Angad meets Kannan Agarwal and takes the envelope in which there are passcodes. The hotel manager sees all of this from a distance.
Sahiba comes to Angad and says to Angad that she feels that he is in danger and says to Angad that they should return to Ludhiana as everyone here is mistaking him for Sunny Sood. Angad says he can't leave without taking that diamond and says they will leave after taking that diamond. Sahiba says to Angad that she feels that all of this happening due to that diamond.
Episode ends.
Precap:- Sahiba sees Angad sleeping and thinks soon they will return to Ludhiana and they will be safe.
Angad talks with a South African company over the phone saying he didn't take the diamond but someone from his company called him and told him that the diamond has been delivered. Angad says he needs answers from them with an hour if not he will complain to the police.
The police come and say to Angad that he is under arrest as South African company filed a complaint that he stole the diamond and of cheating them.
Click to read