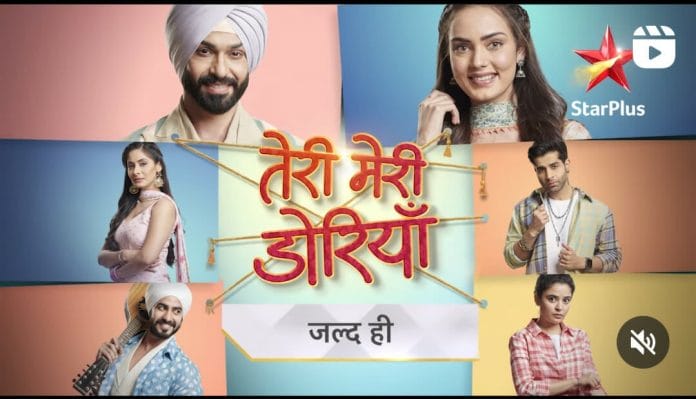 Teri Meri Doriyaann 18th January 2023 Written Update on TellyExpress.com
The episode starts with Jasleen seeing Santosh and her daughters leaving in an auto. She thinks Angad's choice and their mentality is amazing. She decided to hide their secret. Angad sees glass and recalls Seerat. He opens the diamond and he sees Seerat in it. He gets surprised and goes to sleep. While sleeping on the bed finds the earrings. Angad thinks there is something special about Seerat. He thinks about how to search Seerat.
Seerat returns home and tells her father that she won a dance competition. Aunt congratulates Seerat. Ajeet sees the pendant on her neck and asks how she gets it? He asks if they sold their kidneys for the pendant. Santosh comes there and says they didn't. Seerat reveals pendant is her reward. Seerat says finally she bought something to home. She asks how much it cost.
Ajeet says it's an expensive one and this pendant is a symbol of your victory so it's priceless. Santosh mocks him and reveals it's the cost of 2lakhs and I will make my daughters get married to rich households then I will get respect from colony people. Seerat asks her to not stop her and tells her father how she made everyone lose in her gidda dance. Keerat gets angry. Ajeet asks Seerat when she learned Gidda. Seerat says Sahiba taught her and she learned quickly with her talent.
Keerat acts like massaging Seerat and takes pendant. She says real winner has to get it. She makes Sahiba wear it. Seerat warns Keerat to return her pendant. Keerat refuses.
Angad asks his manager if they have Seerat details and address. Manager asks if Seerat is the one whom he lifts in his arms. He is taken a back and sends his manager.
Seerat asks Sahiba to return her pendant. Sahiba gives her. Seerat pulls it. Sahiba feels pain. Everyone notices she is hurt. Ajeet asks how she got hurt. Keerat asks Sahiba to reveal it. Sahiba says no need. Keerat asks her to learn to take a stand for her. She reveals how Sahiba got hurt while saving Seerat. She says Sahiba is humiliated for saving Seerat and Seerat is silent. Ajeet asks what Santosh did. Santosh comes out and applies ointment to Sahiba's wound. She asks Sahiba to forgive her for hurting her. Sahiba says she understood why she did it.
Santosh says your dad doesn't understand me but I will make my daughters get married to a rich family. Ajeet says he doesn't like her ways. Santosh says she doesn't need his opinion and asks Sahiba if she correct or not. Sahiba nods she is correct. Santosh says I'm feeling bad for not being able to join you in art college and you're my pride. Seerat says no one cares for her work and everyone always prizes Sahiba. Santosh says her 3 daughters are equal to her. She tells her sister in law how Seerat made Brar's grandson fall in love with her. Sahiba says Angad doesn't deserve Seerat. Santosh says money is everything so Seerat will handle him.
Aunt notices Seerat's earring is missing and asks where are her earring. Keerat says Seerat might lose it. Sahiba says it was the memory of mother and did you lose it really. Keerat says she will check it at Brar's house. Santosh stops her and says Brar's family won't allow her. Ajeet says he is unhappy with recent happenings. Seerat tells Sahiba that she will make her get a new earring set when she marries Angad and asks Sahiba to think of it as an investment. Sahiba saua it's not okay. On another side, Angad misses Seerat.
Episode ends.
Precap- Sahibaa says the last time she saw her earrings are when she gave them to Seerat and nobody knows where it fell, I called Kulcha up and he will be getting his auto and we will look for the earring on the way till Brar mansion. Sahiba decides to search for the earrings. Santosh says Seerat will find the earrings and bring them back as she lost them. Seerat leaves to the Brar mansion. Sahiba sees that Seerat left her phone here so she decides to go to the Brar mansion as she doesn't trust the Brar's family. Later Angad sees Sahiba at their place. He asks what was Sahiba doing here? The servant says she was trying to make an excuse to barge in. Sahiba says she wasn't making any excuse, I'm here. Angad asks if she came to steal. Sahiba asks what. Angad asks 'are you here to avenge from my family last night's insult? He says get this straight, if you even think of hurting my family then I will get you jailed for life. Sahiba points her finger at him. He holds her hand. Seerat looks worried. Sahiba asks Seerat ' why won't you say anything sister'? Angad sees Seerat. Seerat looks helpless.