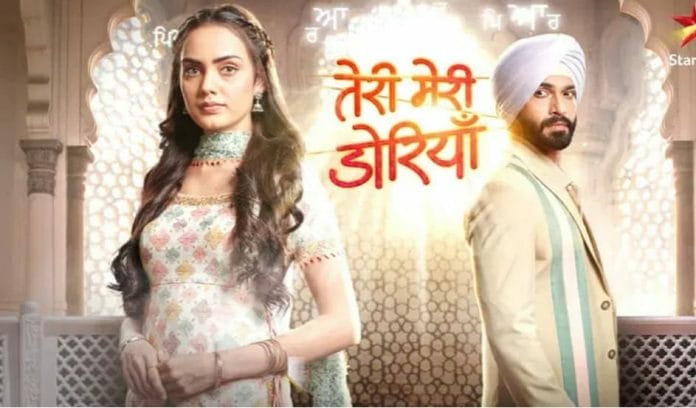 Teri Meri Doriyaann 19th September 2023 Written Update on TellyExpress.com
The episode starts with Sahiba after taking a bath finds that the lights have gone. Romi is shown to be hiding in Sahiba's room. Sahiba comes outside and checks that the lights are turned on. Sahiba searches for her phone and candle to get some light. Romi gets an urge to touch Sahiba's hand but he controls himself.
Sahiba takes a candle and lights it up. Sahiba thinks of Angad and has tears in her tears. Romi asks Sahiba in his heart not to cry. Romi decides not to go in front of Sahiba as she might be scared. Romi thinks he should not allow Sahiba to have tears in her eyes. Sahiba finds a handkerchief on the bed and thinks who is this? Romi thinks it will not be safe for him if someone comes into this room. Romi decides to leave but when he is about to sneakily. Romi's watch gets stuck with Sahiba's Dupatta. Sahiba hears knocking on the door and she goes to get it. Sahiba leaves the Dupatta and goes and opens the door. Sahiba sees that it is Seerat. Romi leaves Sahiba's room through the window taking the Dupatta.
Seerat and Sahiba come into the room. Sahiba searches if there is someone in her room. Sahiba sees that there is no one. Romi gets down and puts the fuse back. Sahiba after the lights get turned on.
Sahiba goes to the guards and says there is someone in her room and asks the guards to check it out. The guards go to check out Sahiba's room.
Seerat mocks Sahiba and asks Sahiba if she hid anyone when she came here. Sahiba asks Seerat why did she come here? Seerat asks Sahiba what is she doing? Sahiba says she is moving on in her life. Seerat asks Sahiba to allow Angad to move on in his life and asks Sahiba what will she do with their relationship? Sahiba asks Seerat if she came here to ask her to officially divorce Angad? Seerat says yes. Sahiba makes a comment on Seerat and sends her away. Romi eavesdrops on their conversation and thinks he will never allow Angad to enter into Sahiba's life again.
Veer and Pam worry about Angad. Angad asks Pam what is today's schedule. Veer says it's Sunday and there is no work today. Veer says to Angad that he needs to take rest. Angad agrees. When Angad gets up he feels drowsy. Veer catches Angad.
Manveer worries about Angad. Inder asks Manveer to eat some food. Manveer says she is worried about Angad. Inder and Manveer talk about Angad. Manveer begs Jabjyot and Akaal to bring Angad home as she is worried for him. Seerat comes forward and says she will bring Angad home as Angad took care of her when she was in trouble.
Sahiba comes to her home. Ajith and Kirat warmly take care of Sahiba.
Veer asks Angad to go home but he doesn't agree and says he will not die due to work. Angad says no one cares. Seerat comes and says she cares. Angad leaves from there. Seerat goes after Angad.
Sahiba shows the art exhibition passes to Ajith and Kirat. Sahiba says her paintings are going to be auctioned in a prestigious art exhibition. Kirat feels happy hearing this and asks Sahiba if she told Angad. Sahiba says no.
Episode ends.
Precap – Seerat tells Angad that he is a kind man who keeps his promise if he supports someone, he supported Sahiba, but she betrayed him. She asks him if he thought if he expresses his feelings to Sahiba, will she accept it. She says Sahiba will not accept him. Angad asks Seerat how she knows about it.
Manveer says to her family that they made a mistake doing Angad's marriage with Sahiba. Manveer says it would have been good if they did Angad's marriage with Seerat. Seerat gets shocked hearing this.
Click to read