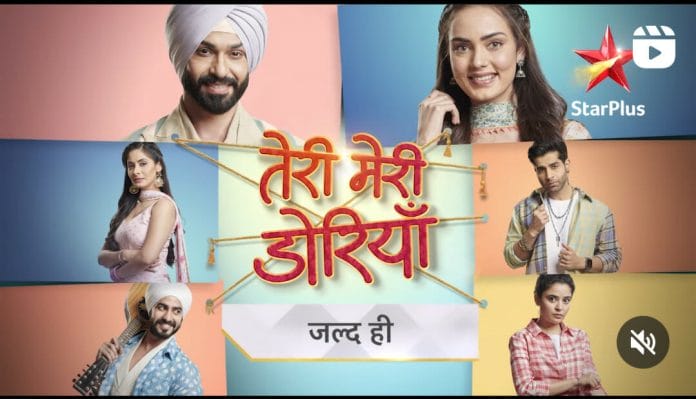 Teri Meri Doriyaann 20th January 2023 Written Update on TellyExpress.com
The episode starts with Servant saying to Angad in front of everyone that he found earrings in his pocket. Everyone gets shocked. Manveer takes earrings. Kiara teases Angad. The servant says he brings it thinking it might be a design. Angad asks him to leave. Manveer asks whose earring it's.
On another side, Kulcha tells Sahiba he couldn't find the Seerat earring in his auto. Seerat thinks she has to go there. She asks if he bought the things she asked for work. Kulcha says no one gave payments and everyone is saying excuses. Sahiba says she will manage and sends him.
Seerat comes there getting ready. Santosh praises her look. Sahiba asks Seerat where is she going. Seerat says she is going to Brar's house to search for the earring. Sahiba says the Brar family is not good and she says she will go and search for it. Santosh says it's punishment for Seerat so she will go there to search for it. She asks Keerat to go with Seerat. Keerat refuses. Seerat says she can go alone and leaves. Santosh goes to do her work. Keerat says to Sahiba something is suspicious. Sahiba asks her to not doubt Seerat and says she is worried for Seerat.
Manveer asks Angad to say whose earring its. Garry says Angad talked to that earring the whole night. Manveer asks Angad to share with her. Kiara says this earring belongs to one who made Angad the winner of the competition. Jasleen thinks her doubt is correct. On another side, Keerat says to Sahiba that 'Seerat left her earrings intentionally to enter Brar's house again.
She asks Sahiba to understand. Sahiba scolds Keerat for thinking in that way and supports Seerat. Sahiba sees that Seerat left her phone here so she decides to go to the Brar mansion as she doesn't trust the Brar family. Jasleen says it's good finally Angad liked someone. She asks Angad if he knows everything about her. Angad says he just knows about her name. The servant comes there and informs Angad that Seerat came. Everyone teases Angad. Manveer decides to find out if Seerat is suitable for her son or not.
Angad feels happy seeing Seerat. Kulcha drops Sahiba and Keerat at Brar's house. Sahiba asks Keerat to search for an earring on the lawn and says she will go to give the phone to Seerat. Guards don't allow them inside.
Seerat waves hi. Angad's cousins and other family members come there and meets Seerat. Seerat apologizes to them for disturbing them. She says she doesn't have a number to contact them. Kiara asks whose number she wants and tells her the number. Seerat notices she doesn't bring the phone with her. Jasleen asks why she came. Seerat says she came for her earring which she lost last night.
Manveer asks 'have you come here for only that?' Seerat says I have many earrings but this one is special as my grandmother gifted me so I can't lose it as it's priceless. Angad says don't worry, it is with me and I thought about how to contact you. Seerat says I know you will keep it safe if you get it. Angad takes earrings from his mother and gives it to Seerat. He lost in her. Seerat thinks why no one is stopping her. She says she is leaving and thanks them. Angad says its his pleasure. Everyone teases him. Seerat is about to leave. Manveer stops her.
Episode ends.
Precap – Angad sees Sahiba at their place. He asks what was Sahiba doing here? The servant says she was trying to make an excuse to barge in. Sahiba says she wasn't making any excuse, I'm here. Angad asks if she came to steal. Sahiba asks what. Angad asks 'are you here to avenge from my family last night's insult? He says get this straight, if you even think of hurting my family then I will get you jailed for life. Sahiba points her finger at him. He holds her hand. Seerat looks worried. Sahiba asks Seerat ' why won't you say anything sister'? Angad sees Seerat. Seerat looks helpless. Seerat says she will manage Sahiba and sends him inside. Seerat talks to Sahiba.
Click to read