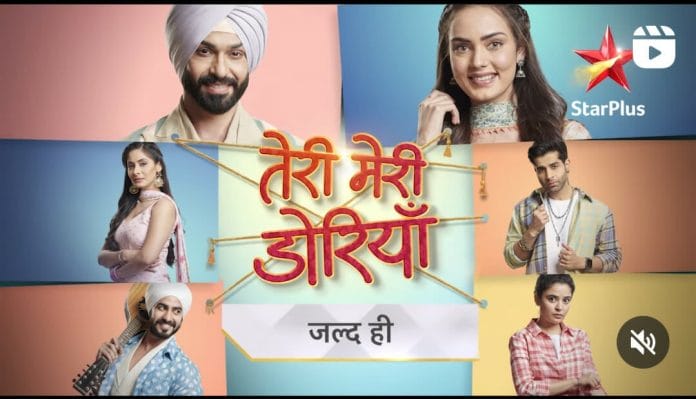 Teri Meri Doriyaann 21st January 2023 Written Update on TellyExpress.com
The episode starts with Guard saying to Sahiba and Keerat that nobody can enter the house without Angad's permission. Keerat argues with the Guards. Sahiba stops Keerat. Keerat asks if she is expected to get Angad's permission. Sahiba says Angad won't allow her inside. Keerat says she will talk. She tries to request Guards but they don't listen. Manveer stops Seerat and asks her to have food with them.
Seerat agrees. Gurleen says let's go otherwise food will be cold. Everyone goes inside. The guard calls Sahiba and Keerat useless. Keerat gets mad and shouts at them. Seerat and Angad hear the voice coming from the gate. Seerat understands Keerat's voice and thinks she may get exposed if the truth comes out. Angad asks Seerat to go inside and says he will check what's happening near the gate. Seerat says she stopped to be with him and requests that she will come out with them. Angad agrees.
Angad and Seerat come out. Angad asks Guard what's happening. Guard says 2 girls try to trespass the house without permission but we stopped them. Sahiba is about to leave. Angad stops her. On another side, Santosh feels worried for Seerat. That time Baba comes there and asks if she is worried about her daughter's marriage. Santosh gets surprised and asks how he knows. Baba says he knows that she has 3 daughters. Santosh asks him to come inside and predict Seerat's future. Baba says no one gets everything but the one whose future you must be asking about must be your middle one, not the elder one. Santosh gets surprised.
Angad sees Sahiba. He asks what was Sahiba doing here? The servant says she was trying to make an excuse to barge in. Sahiba says she wasn't making any excuse, I'm here. Angad asks if she came to steal. Sahiba asks what. She says she is an artist and asks him to give her respect. Angad asks 'are you here to avenge my family last night's insult? He says get this straight, if you even think of hurting my family then I will get you jailed for life. Santosh says to baba ' she will get her daughters married to rich families. Baba says all three of your daughters will get married into rich families. Santosh feels happy. She asks him to tell her about her eldest daughter.
Baba says your middle daughter is the key that unlocks your family's fortune as she is selfless and near to god and she will he richest out of all your daughters. Santosh asks what about Seerat? Will she get married to Angad. Baba says Seerat has to see lots of hurdles in her marriage phase. Santosh asks him for remedy to clear the hurdles. Baba says Sahiba will take care of her sisters and she won't leave them. He says her 3 Rd daughter will get a good guy too. Santosh asks what about Seerat. Baba goes out. Santosh says she will feed him food for 9 days and asks him to tell about Seerat. Baba says he can't change the fortune even if she feeds him lifelong. He leaves.
Sahiba says to Angad 'She came here for work and she won't get scared of the police. She points her finger at him. He holds her hand. Seerat looks worried. Sahiba asks Seerat ' why won't you say anything sister'? Angad sees Seerat and asks why she calls her sister. Seerat says it's respecting word from middle class family girls. Sahiba asks him to leave her hand. Angad doesn't. Sahiba asks Angad to learn manners. They argue. On another side, Santosh is concerned and thinks about why Baba said Seerat will face obstacles in her marriage.
Seerat looks helpless. Seerat says to Angad she will manage Sahiba and sends him inside. Seerat goes to Sahiba. Sahiba asks why she refused their relationship again. Seerat says it's to manage the situation. She asks why she came. Sahiba shows her phone. At the dining table, Jasleen says where are Angad and Seerat. Kiara says love broad might be flown away. Manveer stops her and goes to see them. Angad thinks why Seerat is taking so much time. He tries to go out but Manveer stops her and asks what happened. He says how Sahiba tried to create a scene. Manveer asks what Seerat is doing.
Episode ends.
Precap – Santosh asks Seerat what happened at Brar's house. Seerat says a miracle happened and they invited dad and you for a meeting and it's about to talk about my alliance. Santosh feels happy. During the Lohri celebration, flower garlands fall on Sahiba and Angad.
Click to read