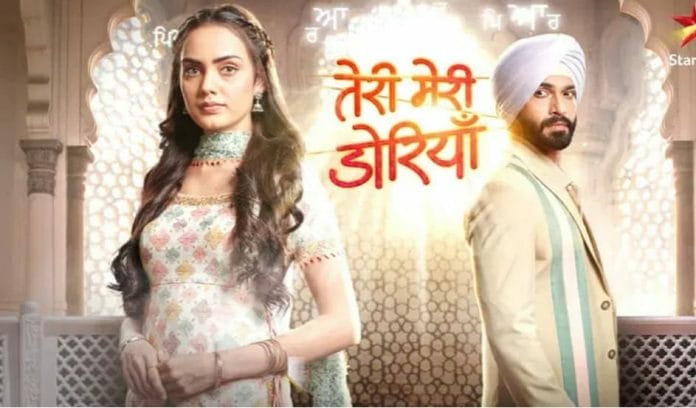 Teri Meri Doriyaann 21st November 2023 Written Update on TellyExpress.com
The episode starts with Veer saying to Sahiba that Kirat's mood is off from when she came here. Sahiba comes and asks Kirat what happened. Kirat recalls what happened. Kirat says she is worried about the championship and nothing more than that.
Gurleen asks Sahiba to bring her mobile charger as her mobile battery is really low. Sahiba agrees and goes to her room.
Seerat turns off the lights hearing the sound of footsteps and hides from Sahiba. Sahiba takes the charger and asks Haripreet to lock Angad's room and says there are important papers in Angad's room and they should not be misplaced. Seerat thinks she has to do something before Haripreet locks Angad's room. Seerat sees Haripreet distracted and sneaks out of Angad's room.
Yash comes to the Brar mansion. Angad thanks Yash as he called him at the last minute and Yash still came here. Yash gives a bouquet to Angad.
Jasleen comments on Yash to herself as he doesn't have time to attend to her phone but he has time to come here.
Jasleen comes to Yash and talks to Yash. Sahiba comes and talks to Yash. The Brar family also talk to Yash and thank him for his help last time.
Yash thanks Angad as he allowed his guests to come here. Angad asks Yash not to worry and goes to make a call.
Yash introduces his two guests to the Brar family. Parth and Mannat. Yash says they came here from London to celebrate Diwali.
Yash tries to introduce Angad to his guests but Mannat sees Angad and thinks he is Sunny Sood.
Mannat hugs Angad thinking he is Sunny Sood. Mannat questions Sunny why did he leave her after they got engaged. Angad tries to explain to Mannat that he is not Suuny Sood but he is Angad Singh Brar. Yash explains to Mannat that she is mistaken and says he knows Angad from when he was a kid. Mannat still doesn't believe other people's words and argues with everyone saying he is Sunny Sood. Mannat also shows the diamond ring with which she was proposed by Sunny Sood. Angad gets shocked seeing the diamond ring. Angad questions Mannat where did she get the diamond ring. Sahiba asks Angad why is he looking shocked seeing the diamond. Angad says this is the same diamond that they went to Mumbai to take delivery Junoone Dil. Sahiba asks Mannat when did Sunny Sood gift her this diamond. Mannat says she will prove to everyone how Sunny Sood proposed to her. Mannat asks Veer to connect her phone to the TV.
In the TV, it is shown Sunny Sood proposes Mannat with the Junoone Dil. They wait to see Sunny Sood's face.
Episode ends.
Precap:- Akaal asks Angad how can there be two Junoone Dil. Angad says there is only one Junoone Dil and says it's this one.
Sahiba says to Angad that Sunny Sood looks exactly like him and he can take the diamond delivery and they got back the diamond ring through Yash's guests. Sahiba says this might not be coincidence. Sahiba says to Angad that it's not safe for him if Sunny Sood roams free.
The mysterious person throws water on Seerat's face.
Click to read