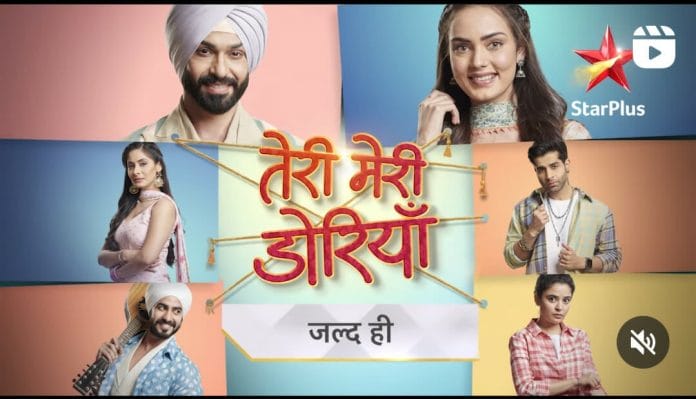 Teri Meri Doriyaann 23rd January 2023 Written Update on TellyExpress.com
The episode starts with Seerat saying to Angad that beauty lies in the eyes of the beholder. Everyone gets impressed. Seerat thinks Sahiba's Gyan helped her. Angad says you're correct but what about real happiness from your point of view? Seerat gets confused. She recalls Sahiba's words that she feels whenever her family stays together. Seerat says time spent with family is real happiness to her and there is nothing in front of family's happiness. Everyone feels good hearing her answers. Manveer asks Seerat what her dad does. Seerat lies they have an international traveling company. Gurleen and Pravjyot discuss Seerat is perfect for their Angad. Manveer feels happy. Jasleen thinks Seerat is fooling everyone. Gurleen asks Angad if his questions are over. Angad says one last question. He asks Seerat what she wants to change in life. Seerat thinks she wants to change her whole life. She recalls Sahiba's answer and tells Angad that there is no list she wants to change as the problems I faced made me strong and they are lessons I learned from life. Jasleen says to Manveer 'Seerat is a perfect match for Angad'. Pravjyot and Gurleen agree. Jasleen thinks she can take revenge on Angad through Seerat.
Manveer asks Seerat to bring her parents to their house tomorrow. Seerat says they are happy to meet you and I will inform you asking them but I need the number to tell the decision. Kiara asks Angad to give his number. The servant inform Angad that his clothes for Lohri function is ready. Seerat asks if he is going anywhere. He says he is going to judge the Lohri competition. He receives an important call. Garry asks Angad to attend the call and says he will share his number with Seerat.
Santosh prays Baba to not break her hopes and asks him to take care of Seerat's life. On another side, Sahiba decorates the Lohri venue. Organizers praise her efforts. Sahiba thanks him and says she will leave. The organizer asks her to stay until the chief guest arrives. She agrees. Angad comes there with his cousins. Sahiba gets angry seeing him. Sahiba and Keerat decide to leave. The organizer asks them to stay until the Lohri gets started.
Seerat asks Garry for Angad's phone no. Garry apologises to Seerat and says he will not give Angad's phone no as he will not take her calls and will not call her back. Seerat asks Garry how does Angad behave in his work. Garry says Angad learns work from him and praises himself. Garry gives his phone no to Seerat and says she can call her anytime. Garry misleads Seerat making Seerat think that he is better than Angad. Garry goes to take a call. Seerat believes Garry's words and thinks of why everybody wanted to meet Angad at the function also time.
Angad greets everyone who came and gives the speech and talks about Lohri. Angad says he wishes everyone will get their love and ends it. The dancers start dancing for a song.
The anchor asks the chief guest Angad to light the Lohri fire. Angad takes the fire torch and lights the Lohri fire. Sahiba turns around the Lohri and wishes so that she can take care of her family and she can become a great artist. Sahiba sees that a burnt log is about to fall on Angad. Sahiba pushes Angad away and saves him. Angad falls on a woman who is holding Sindhur in a plate.Sahiba catches Angad from falling down. Sindhur goes into the air and falls on Sahiba's Maang and Sahiba's forehead.
Episode ends.
Precap – Sahiba to say to Angad that if saving someone's life is a mistake then she made a mistake. Sahiba says she will not apologise to him for it. Angad asks Sahiba who is she as she is arguing with him.
Santosh sees Sahiba and asks what happened and what is on her forehead? Kirat says it is Sindhur. Sahiba says when she saved someone Sindhur fell on her. Seerat thinks it is a coincidence as they are talking about Seerat's marriage but Sahiba came home with Sindhur on her.
Click to read