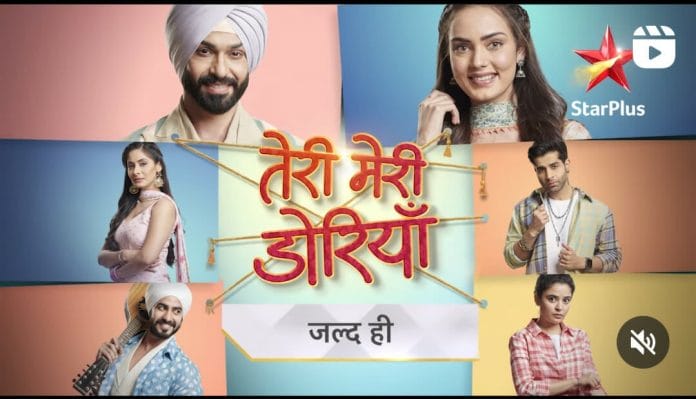 Teri Meri Doriyaann 26th January 2023 Written Update on TellyExpress.com
The episode starts with Angad taking his grandparent's blessings and wishing them happy Lohri. Bebe blesses him and says god will always show the right path to him to brighten their family name. Jasleen smirks seeing it. She thinks Angad will lose his name and Fame with his love story. Garry comes there and asks if she said something. Jasleen says nothing. She asks him to take his grandparent's blessings. Garry tries to take her blessings. Jasleen stops him and sends him to his grandparents. Gurleen distributes sweets to everyone. Akaal takes 2 laddoos. Bebe asks if he will spoil his health by eating more sweets. Akaal says one of them is for Inder. He asks Bebe to feed sweet to Inder. She leaves. Everyone teases Angad for his marriage. Garry thinks he won't let him marry Seerat.
On the way, Sahiba scolds Angad and thinks about how her parents react. Veer sings a song that reminds Sahiba to Angad. Angad asks him to not sing that song. Veer asks if he is still thinking about Sahiba. Angad goes to his room and closes the door.
Seerat tells Ajit that he is a big villain in her life. Ajit asks what mistake he did and says he fulfilled his responsibilities by making them study and providing them with food and clothes. Santosh rebukes him. Jasleen tells her parents that Manveer called Seerat's parents to their place. Akaal says Manveer take their permission. Jasleen says Inder doesn't know about it. She sees Inder and informs him of Seerat and Angad's alliance. Inder asks why they didn't inform him about his son's alliance. Akaal says you're staying in the house but not mingling with other family members. Jasleen says Seerat is a good choice for Angad. Bebe gets surprised by Jasleen's words and asks when she changed. Jasleen says she cares for family unlike Inder and if you don't like my words about family matters then I will stay silent. Manveer says they have to take time to decide if Seerat and her family are right to them or not. Akaal and Bebe agree.
Akaal says it's not right to decide in haste. Akaal says this match is for Angad and they will take this decision after thinking about it. Jabjyot also says everyone's decision will weigh on this match. Inder asks them if they asked Angad about this match. Inder sees Angad coming and asks him if he agrees with the match that the elders are talking about. Garry comments on it. Angad says he will accept the elder's decision. Angad says he will only marry when both of their family status match. Angad says Seerat's parents are coming today to their house and says he will accept whatever both family's decision is.
Santosh complains to Ajith that she doesn't have a proper dress to wear to go to the Brar's house. Santosh says there is only one dress and reminds Ajith that he did not give that dress and it was gifted by someone else. Santosh says she doesn't want this life for her daughters and she wants to marry her daughters to a rich household.
Santosh and all the family members see Sahiba. Santosh gets worried seeing Sahiba like this and asks Sahiba what is this red colour on her forehead. Kirat says this is Sindhur. Ajith asks Sahiba what happened? Sahiba says she will tell them but not now as she is angry? Ajith offers Sahiba a glass of water. Santosh asks Sahiba she went for the decoration of Lohri festival right what happened? Sahiba says the Lohri decoration festival went well but want happened after that is not good. Sahiba says in the crowds someone pushed her and Sindhur fell on her. Seerat says it is quiet a coincidence as they are talking about her marriage but Sahiba came with Sindhur. Seerat makes fun of Sahiba and asks Sahiba if the Sindhur really fell on her and someone put Sindur on her. Sahiba thinks if she marries Angad then her happiness will commit suicide.
Episode ends.
Precap – Seerat to say to Sahiba that Angad wants to marry her. Sahiba asks Seerat if Angad really wants to marry her.
Garry asks Angad how many girls did he make fall in love with him and reminds Angad his count is zero. Garry says he is an expert in this field and tells Angad to do exactly as he says. Garry calls Seerat and says he fixed a date for Angad and her and for that she needs to accept a condition. Seerat asks Garry what is the condition.
Click to read