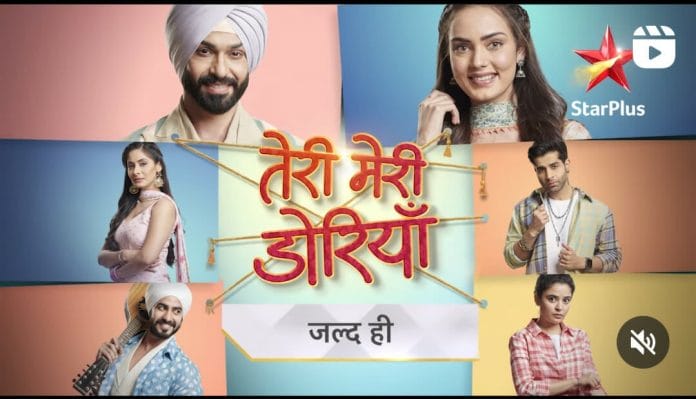 Teri Meri Doriyaann 29th January 2023 Written Update on TellyExpress.com
The episode starts with Angad thinking there is something special about Seerat and misses her. He hears a laughing Sound. He opens the door and sees Kiara, Garry, and Veer. They ask with whom he is talking. Angad asks them to leave and says he has a meeting with his associates. Garry says they left long back and who makes you forget the deal? Kiara asks why he is talking to earring. Angad says he studying the design of earring. Garry asks whose earring it's? Kiara says it belongs to Seerat and seems like she won Angad's heart along with the competition.
On another side, Santosh asks Sahiba to leave about Earring and maybe that earring may bring us luck. Sahiba says she saved it for the Keerat scholarship. Santosh says we can think about it later and now we have to think about Seerat's wedding. Aunt says they have to think about Sahiba's marriage too. Sahiba asks her mom and aunt to not think about her marriage.
Ajeet says your mom may not treat you like a stranger if she cares for you, shame on her. Santosh feels hurt. He leaves. Sahiba asks Santish to not take Ajeet words to her heart. Santosh goes to her room and cries badly. Ajeet enters the room and notices Santosh is sleeping on the floor. Ajeet asks if his words hurt her. Santosh says she is punishing herself for her repentance and she warns him to not tell anyone about it. Sahiba hears everything standing near the door.
The next day, Santosh asks Keerat where is she going. Keerat says she is going to keep the logs outside for Lohri. Santosh asks her to behave like a girl. Sahiba comes there and wishes them happy Lohri. Santosh asks Sahiba 'if she is angry at her'. Sahiba says she is angry as she forgot about oiling her hair. Santosh smiles. She hugs her daughters and wishes them happy Lohri. Seerat comes there. Santosh asks how she woke up quickly. Keerat and Sahiba go to do their work. Seerat says to her mom she didn't sleep thinking about how Angad will contact her as he doesn't have her address. Santosh says you're going to Brar's house again to find your earning and you have to win everyone's hearts too. Seerat says she will do it.
Keerat return. Aunt gives her food to eat. Keerat says she will win the gold medal snr give her. Aunt says no, last time I asked Seerat to wear Grandma's earrings, and one is lost so I can't even save your medal. Sahiba says the last time she saw her earrings are when she gave them to Seerat and nobody knows where it fell, I called Kulcha up and he will be getting his auto and we will look for the earring on the way to Brar mansion. Sahiba decides to search for the earrings.
Aunt says Seerat has to know where it falls. Seerat says it fell in Brar's house. Sahiba asks how she is sure. Seerat says she feels it might be there. Keerat asks if she left it intentionally. Seerat says she didn't do it. She asks Santosh to talk as Keerat is insulting her. Santosh asks Keerat to stop arguing with Seerat. Santosh says Seerat will find the earrings and bring them back as she lost them. Seerat says she will go to Brar's house. Santosh asks Seerat to get ready as she is going to Brar's house. Keerat feels something fishy.
At the Brar mansion dining table, Bebe asks Manveer to get Angad married soon. Manveer says Angad is rejecting many wedding proposals. Gurleen says he may already like someone. Jasleen asks what if Angad falls in love with the wrong girl? Bebe says it won't happen. She says she will make Angad share his feelings with her. Manveer says he won't. Bebe says let's place a bet. Manveer agrees. Angad comes there. Gurleen asks Angad to tell them if he likes anyone. Angad thinks about Seerat. Manveer says you didn't say no this time so tell who's that girl. Bebe asks him to say. Angad tries to avoid the topic. The servant brings the earring and tells in front of everyone that he finds the earring in Angad's pocket.
Episode ends.
Precap – Angad learns Seerat came to their house. He rushes to meet her. Jasleen asks why she came. Seerat says she came for her earring. Manveer asks 'have you come here all the way for only that?' Sahiba sees that Seerat left her phone here so she decides to go to the Brar mansion as she doesn't trust the Brar's family. Later Angad sees Sahiba at their place. He asks what was Sahiba doing here? The servant says she was trying to make an excuse to barge in. Sahiba says she wasn't making any excuse, I'm here. Angad asks if she came to steal. Sahiba asks what. Angad asks 'are you here to avenge from my family last night's insult? He says get this straight, if you even think of hurting my family then I will get you jailed for life. Sahiba points her finger at him. He holds her hand. Seerat looks worried. Sahiba asks Seerat ' why won't you say anything sister'? Angad sees Seerat. Seerat looks helpless.
Click to read