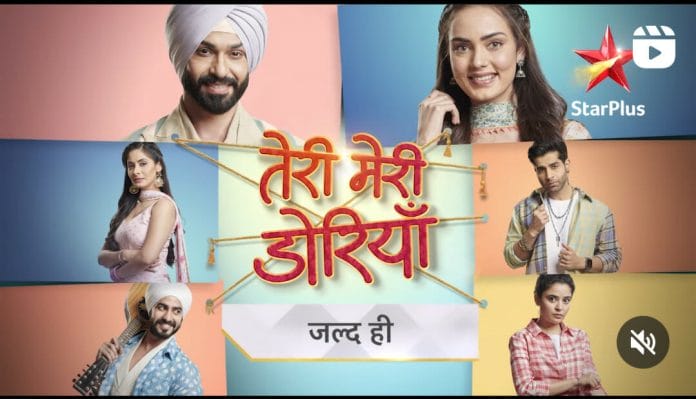 Teri Meri Doriyaann 4th January 2023 Written Update on TellyExpress.com
The story starts with a voiceover explaining the love stories of Punjab and hints to viewers that they are going to witness another amazing love story which is going to be the fifth one. Angad wakes up from his sleep and rushes to meet someone in his car. The security team notices he is leaving and follows him. Angad messages someone that he will meet them in 10m in Nehru gardens. Sahiba receives the message and she rushes to meet the person in Nehru gardens hiring an auto. Sahiba thinks the first time she hides something from her dad. Angad and Sahiba come across at one point and then they travel in different directions. Angad receives the parcel which came in the helicopter. Driver says you may get it cheaply if through parcel but why you spend so money for early delivery. Angad says it's special.
Sahiba reaches to her place and starts her work by burning pots. Her uncle says she is working hard for her family. Sahiba says the family is everything. On another side, Angad says family means love. The voiceover says Angad and Sahiba can do anything for their family and let's see what their family can do for them. Santhosh waits for milk in line. She scolds the lady for colliding with her vessel and says it's heard that a good match won't come if vessels ger collided. Lady says you said your girls are getting many matches. Santhosh says Seerat is a fashionista and I will make her marry into a rich household. Ladies show her a guy who came in a sports car.
Santhosh goes to enquire about him. He gets irritated by her questions and he asks his team to send 100 liters of milk to Akal Singh Brar's house. Nimmi asks Santhosh didn't she finalize the alliance with him. Santhosh says he is not suitable for Seerat and asks Nimmi about Brar family. Nimmi says the Brar family is rich and they won't even allow you guys inside and today is the anniversary of Brar's head and his wife that's why they ordered 100l milk. Santhosh is determined to enter the function and make Seerat get married to that house.
Angad returns home and he gets slipped without noticing wet workboard. A Household lady apologises to him. His watch got broken. Angad notices the board and says it's his mistake and gives the broken watch to the employee saying there is no place for broken things in his life. Kiara on live tells everyone that today is her Grandparent's 55th anniversary and today we have competition and in it first contender is my uncle Akal Singh Brar and second one is Sardar Jaspal Singh and last one is Sardar Angad. Angad and Jaspal take blessings of Akal.
Angad says he will win the competition. Akal says it won't happen. Kiara says Dadi will judge the competition. Angad mother Barfeer asks Angad to concentrate on winning not defeating. He asks if his dad didn't come. She says he didn't come but I won't let you feel his disappearance. Jaspleen wife teases his husband and brother Veer. Kiara says my mom is here. Jasleen wishes happy anniversary to his dad but he didn't react. She wishes her mom. Jasleen mocks why Indar came to cheer his son. Bebe warns her to not create scene.
On the farm, Garry enjoys with a girl in van. He receives his mom's call and tells her that he is on the way. He asks the girl to drive the van and he gets ready. Sahiba prepares 100 pots with her paint. Uncle praises her handwork and gives payment. Sahiba demands him more money and he pays her.
Santhosh on call asks Veer ji to make her get 2 passes to Akal Brar house. Veer says it's tough. Santhosh requests him. Santhosh returns home and notices Keerat is leaving for her preparation. Santhosh asks Keerat to behave like a girl. Sahiba dad's prepares food. Santhosh mocks him and asks him why can't he think to get their daughters married to the rich household. He says it's good to search for alliances from our status. Santhosh says she doesn't let her daughters face problems like her. Sahiba dad's arranges things in the shop. Sahiba comes there and tells him that she paid the money of Sharma ji. Sahiba's father feels bad for depending on his daughter and not being able to run his family.
Sahiba tells him he is the one who made her learn work and you're cooking food as jewelry work is closed and we are proud to have a father like you. She cries. He asks her to not cry and accepts her help. He tells her that her would be husband will be lucky. Sahiba asks him to not think about her marriage. He says she will get a diamond as her husband. Santhosh wakes up Seerat and tells ger that they are going to the Brar family and asks her to get ready. Seerat gets excited and asks if they are really going to top jewellers house. Santhosh says yes and wishes you attract their one of the son then you will become daughter in law of Brar family.
Episode ends.
Precap – Sahiba asks Santhosh why they want to go to Brar's family. Santhosh asks Sahiba to search solution for her family. Sahiba runs into the Angad's car door and her artistry pot slips out of her hands..