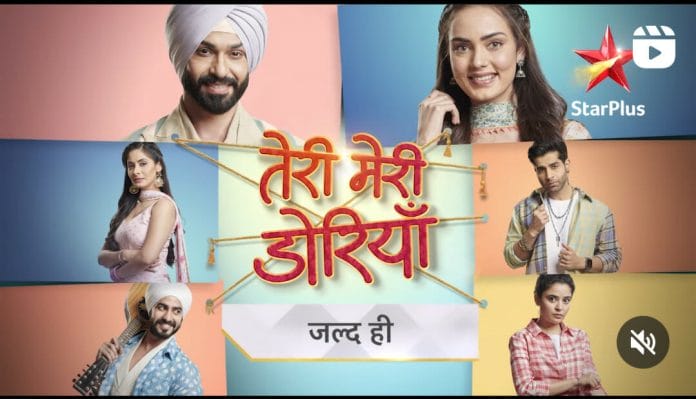 Teri Meri Doriyaann 7th January 2023 Written Update on TellyExpress.com
The episode starts with Sahiba saying to Angad that she won't take money for this work and she just wants two passes for the function being held evening'. Angad says no way. Sahiba says no passes no work. She leaves. Veer asks Angad to agree to Sahiba's demand but Angad denies it. Bebe tells Jaspal 'today if Angad doesn't bring that artist soon thru I will be a big problem and Angad has to face the wrath of Akaal'. She says don't know where is Angad. Inder says Angad just knows how to implement his grandfather's orders. Bebe warns him to not talk in that way. Inder says he doesn't want to talk about ringmaster Akaal Singh who just wants others to listen to him. Jasleen smirks.
Media covers live and telecast as per sources Angad is going to fail to fulfill the responsibility he got for his grandparent's anniversary. Jasleen on the call tells her friend that puja may not happen and you may reach to party in the evening. Jaspal mocks Jasleen. Jasleen mocks him calling him as assistant of Angad. Jaspal says he knows who is capable unlike her. Jasleen says Garry is more sensible than Angad and educated too but he is not getting the opportunity to prove his talent. Akaal comes there and questions them about who leaked to the media that the program is about to get canceled. Jasleen says one of the workers must have tipped off the media or maybe it's Angad's statement. They hear a horn sound. Jaspal says Angad came. She asks him to know from him why he gave that kind of statement.
Jaspal goes out and asks Veer to make the guy start his work. Veer says it's a girl. Sahiba comes out. Jaspal says she is looking like an assistant where is the main artist. Angad says she is the main artist and she will manage everything. They take her inside. Jasleen says Mr.perfect of this family who understands one's caliber in no time has brought her! Manveer asks Isn't she too young? Jasleen says the prayer meeting will begin in an hour and a half, but I doubt, she will be able to do it. Veer says she is talented. Jasleen says this girl.
Sahiba says ever since I came here they are calling me this girl, I have name Sahiba and if you all doubt my talent then I better leave, bye. Angad stops her and asks her to start her work. Kiara asks does she even know what she has to do? It's also possible that it's the work of a rich family and due to her greed, she just came here. Sahiba says seems like no one respects Atm(Angad) that's why everyone doubts your decision.
Kiara says we doubt you not Angad and by the way, Angad is the pride of our family and you can't talk with him in disrespect. Sahiba says it would be good if you don't talk about manners, ever since I came here you're all judging my capability because I'm a woman. She asks them to not judge talent based on gender and age and we should see art work and judge. Angad asks Sahiba and Kiara to end their argument. He tells Akaal that it's his responsibility if anything goes wrong. Akaal asks Sahiba to start her work.
Sahiba asks them to remove the things in the room. Jaspal asks the workers to remove them. Workers remove them. Sahiba assures to decorate the place on time. She smiles seeing the light coming from the place. Veer takes everyone out and gives privacy to Sahiba. Angad asks Sahiba to prove her talent and reminds her she has 1 hour and 10m time. Kiara doubts Sahiba. Bebe asks her to trust Angad. Jasleen tells Garry that she is sure that Sahiba can't do it. She asks Garry to use the opportunity he got. Akaal hears her and asks if she is opportunity in family matter. Jasleen tries to cover it. Garry asks him to give him one opportunity. Akaal asks him to bring staff and family near the pool as I want to know who leaked info to the media. Garry feels tensed. Sahiba starts her work.
Akaal tells his wife that he fail to fulfill her wish, I couldn't take you to the place you were born and I'm not sure if I can do this year or not. Bebe says you gave me all things and I like your companionship. Akaal sees news that function in Brar function won't happen because of Angad's mistake. Veer sings the song. Bebe asks Akaal to smile for Veer. Sahiba gets impressed with Veer's voice and she goes near his room and draws a smiling face on the glass. Veer smiles.
Episode ends.
Precap – Akaal asks Bebe to forgive him and says this time I couldn't give you the gift of your choice. Jasleen says this is the result after all this drama? And its good if we cancel the function. Angad questions Sahiba why she ruined the art.
Click to read