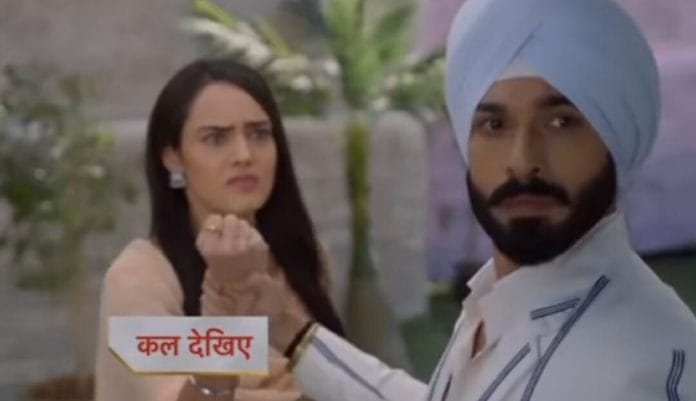 Teri Meri Doriyaann Spoilers, Upcoming Story, Latest Gossip , Future Story, Latest News and Upcoming Twist on tellyexpress.com

StarPlus TV new show Teri Meri Doriyaann serial is witnessing some major turning points where Santosh and Seerat hatch a plan.

As reported earlier, Santosh asks Sahiba to leave about Earring and maybe that earring may bring us luck. Sahiba says she saved it for the Keerat scholarship. Santosh says we can think about it later and now we have to think about Seerat's wedding. Aunt says they have to think about Sahiba's marriage too.
Sahiba asks her mom and aunt to not think about her marriage. Ajeet says your mom may not treat you like a stranger if she cares for you, shame on her. Santosh feels hurt. He leaves. Sahiba asks Santosh to not take Ajeet words to her heart. Santosh goes to her room and punishes herself by sleeping on the floor.

The next day, Santosh wishes happy Lohri to her daughters. Aunt talks about her mother's earring and says Seerat has to know where it falls. Seerat says it fell in Brar's house. Sahiba asks how she is sure.
Seerat says she feels it might be there. Keerat asks if she left it intentionally. Seerat says she didn't do it. Santosh asks Seerat to get the earring by going to Brar's house as per their plan. Seerat agrees.

At the Brar mansion dining table, Bebe asks Manveer to get Angad married soon. Manveer says Angad is rejecting many wedding proposals. Bebe says she will make Angad share his feelings with her. Manveer says he won't. Bebe says let's place a bet.
Manveer agrees. Angad comes there. Gurleen asks Angad to tell them if he likes anyone. Angad thinks about Seerat. Manveer says you didn't say no this time so tell who's that girl.
Bebe asks him to say. Angad tries to avoid the topic. The servant brings the earring and tells in front of everyone that he finds the earring in Angad's pocket.

In the upcoming episode, viewers are going to witness Angad learns Seerat came to their house. He rushes to meet her. Jasleen asks why she came. Seerat says she came for her earring. Manveer asks 'have you come here all the way for only that?
Sahiba sees that Seerat left her phone here so she decides to go to the Brar mansion as she doesn't trust the Brar's family. Later Angad sees Sahiba at their place. He asks what was Sahiba doing here? The servant says she was trying to make an excuse to barge in. Sahiba says she wasn't making any excuse, I'm here.
Angad asks if she came to steal. Sahiba asks what. Angad asks 'are you here to avenge from my family last night's insult? He says get this straight, if you even think of hurting my family then I will get you jailed for life. Sahiba points her finger at him.
He holds her hand. Seerat looks worried. Sahiba asks Seerat 'why won't you say anything sister'? Angad sees Seerat. Seerat looks helpless.
Will Seerat get successful in her attempts? Will Sahiba get Seerat's support?
All these questions will be answered in the upcoming episodes.
To know what will happen next in your favorite show, keep checking this space for new and exclusive updates.