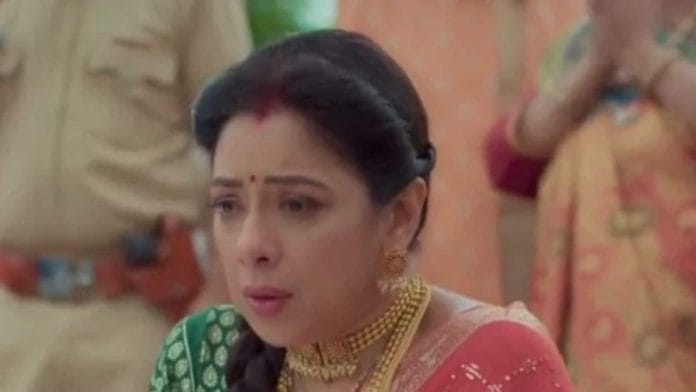 Anupama Upcoming Story, Spoilers, Latest Gossip , Future Story, Latest News and Upcoming Twist on TellyExpress.com
Drama to galore in Anupama with Arya's throat getting chocked and Anuj's health worsening at the same time
In today's episode, Paritosh complaint to Samar that Kinjal isn't receiving his call. Samar says Kinjal is still upset with him. Paritosh request Samar to make a video call to Kinjal and Arya. Samar disclosed to Paritosh that Kinjal left Shah house and staying with Anupama. Paritosh says now Anupama will instigate Kinjal to divorce him like she did with Vanraj. He gets angry. Leela asks Kinjal to go to Rakhi's house instead of Anupama's. She says if Kinjal wants Anupama than she will call her home. Kinjal asks Leela why she still tries to rule on Anupama. Leela says because Anupama is her daughter. Kinjal asks Leela when last she asked Anupama that she is fine or not. Kava interrupts and says never. She adds Leela only need Anupama to fix things. Leela asks Kinjal and Kavya not to lecture her. She says Kinjal will not to go to Anupama's place.
Later, Vanraj and Kavya drop Kinjal at Anupama's place. Vanraj gives Arya to Anupama and asks her to handle Kinjal and baby. Barkha and Ankush gets irked. Vanraj says he doesn't need to say and ask Anupama to take care of Arya and Kinjal. Samar says to Paritosh that because of his mistake Kinjal is reacting post latter accuse Anupama for destroying his house. Paritosh decide to end his life. Samar stands mum.
In the upcoming episode, Kinjal will cry for help as Arya's throat gets chocked. She asks Anupama to come back soon. Anuj's health worsens at the same time. Will Anupama be able to handle the Anuj and Arya both? Time will only tell.
Keep watching Anupama mon-sun, 10 PM.