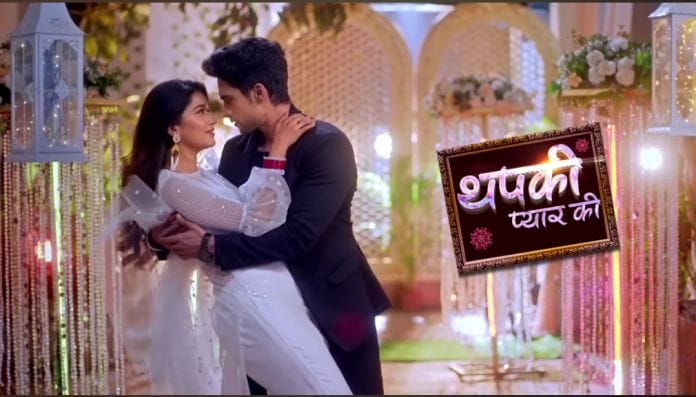 Thapki Pyar Ki 1st April 2022 Written Update on TellyExpress.com
The episode starts with Preethi telling Thapki that she won't back out and will sort out with Sagar as she sorted with Purab. Thapki says breaking someone's marriage is not love. Preethi leaves telling she won't understand. Purab comes to Thapki and says Preethi is not realising her mistake and Sagar doesn't love Preethi that's why he hid their affair from everyone and doesn't know when Preethi realise her mistake. Thapki says she is feeling bad for Priyanka and she goes to talk with her. Priyanka sees her photos with Sagar and recalls their lovely moments and how he cheated on her. She thinks maybe something is missing in my marriage. Thapki comes to Priyanka's room. Priyanka asks her to leave telling she doesn't want to talk with anyone. Thapki hugs her without leaving. Priyanka cries.
Thapki asks why she is bearing all the pain alone. Priyank says I loved Sagar a lot but don't know why he cheated on me and I'm not a woman who can bear the cheating of my husband and these tears are for trusting him blindly and didn't notice that he cheated on me. Sagar overhears their conversation. Thapki says you trusted him and it's not your mistake and I too faced the same situation so don't lose your hope which can strengthen Preethi. Priyanka says Purab never touched Hansika and will you accept if something happens between Hansika and Purab. Thapki says don't know and it's your decision whether you want this relationship or ends it and men don't have power to handle the relationship like women and I will support your decision. Sagar stops himself from entering the room.
Dadi prays Maata rani in tears. Swapna says to Dadi what Veena has told about her is absolutely right. I was jealous of Veena and when Purab and Thapki's relationship is breaking up I was enjoying myself. What they say is right If you wish ill to someone it will also happen to you. Swapna says she has made a mistake and cries in front of Dadi. Dadi says it's called Karma when you wish ill to someone it will happen to you but if you realize your mistake then Lord Krishna will give you a chance. Dadi says we have to stand on Priyanka's side. Swapna says she will not leave Priyanka's side. Sagar punches the punching bag with his bare hands and punishes himself. Purab sees it and says what will you get by punishing yourself. Sagar says then what can I do. Purab says that you played with two lives why because you want to time pass. Purab says about the importance of a wife and tells what they sacrifice. Purab says they can handle anything but they can't handle giving their right to somebody else and you have done it. Sagar says I am willing to do anything and I am even ready to beg. Purab says do anything and I think she will agree and forgive you. Purab also says sorry for slapping him.
Priyanka is in the kitchen pours water into the glass and thinks about what Thapki said. Sagar says to Priyanka the glass is full. Sagar stops Priyanka when she tries to walk away he goes on his knees and apologizes to Priyanka for what he did. Priyanka says why should I forgive you and says Even if I want to I can never forgive you. Sagar says to give their relationship another chance. She can never give it as there are no memories and what memories I have you have stained them with your betrayal. Preeti comes and says she is rejecting you so you have no other choice other than me. Sagar warns Preethi that he made a mistake but not Priyanka and says to talk to her with respect. Preeti says you don't know what I am capable of. She takes the kitchen knife goes into the hall and calls everyone. Preeti says She will not go anywhere till you do my marriage with Sagar. She cuts her hand with the knife to prove how much she loves Sagar. All the family members are shocked by what she does. She asks at least to marry her now. She says to Sagar that he is her first love and she couldn't leave him like that. Purab stops the blood flow and tries to call the doctor noticing she falls unconscious.
Episode ends.
Click to read