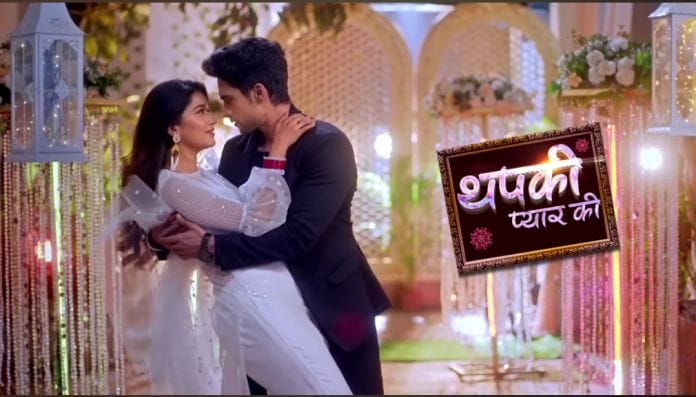 Thapki Pyar Ki 2 31st March 2022 Written Update on TellyExpress.com
The episode starts with Preethi saying to Sagar don't get threatened by these threats and tell you that you love me. Sagar says to stop it. Sagar says she is my wife and you are nothing. I thought of passing time with you but you brought my bad time in front of me. Sagar says to Priyanka that he made a mistake and to forgive him. Priyanka asks if she made the same mistake would he forgive her. Sagar stays silent. Preethi says to stop it and says that you brought me here to make me the daughter in law of this family and I will not go anywhere until it is done.
Veena sees them and asks what's going on here. Dadi goes to the temple and comes back. Dadi asks what's happening. Preethi says she will tell and asks for her blessing and says she is Sagar's second wife. Veena asks Swapna what is she saying. Swapna says what's there is already infront of you there is no need to say anything. Veena asks what are you going to do about it. Swapna asks Veena when Thapki and Hansika are fawning on Purab were you able to do anything. You were not able to do anything this is also my situation. I was forced but she thinks that she can get what she wants in this house like Thapki. These sisters are the same they think of getting what they want by doing anything. Veena and Purab say not to speak ill of Thapki. Dadi says Thapki came to this house to save us from Hansika. She did what she did to protect our status. Sapna says she agrees she has a reason but this girl has no reason. Sapna says to Sagar to throw her out of the house. Preethi says she is not Thapki she knows how to stand for herself.
Preethi says to Sagar I am here because of your promises and you have to fulfill them. Purab asks Sagar what is she talking about. Priyanka says to Purab what she says is right. She found out about their relationship on holi. At that time I have two choices I will cry and kill myself Or to make them teach a lesson and make him feel how I felt. Purab slaps Sagar and says Shame on you. Swapna says he is your brother. Purab says that's why he has done it. Veena says whatever Purab has done he has done the right thing. What kind of a mother are you your son is going on the wrong route and you are not stopping him. Sapna says you are giving me knowledge on good mother. Purab went to boarding school because you want your name to be famous. Veena says yes and says but if she did not do what she did at that time then the Singhania family will not be where it is right now and you will not be wearing this kind of expensive jewelry. Dadi shuts up both of them and says to Preethi to leave this issue here but Preethi does not listen and says Sagar has promised me a lot of things and he has to answer to every one of them.
Priyanka sees Sagar and says give her answers and walks away. Sapna tries to throw her out of the house but Preethi pushes Sapna and Purab catches her. Ashok and Jaya are happy about Thapki's marriage. Purab comes there with Sapna. Sapna asks Ashok to convince Preethi and take her out of the house. Thapki asks what happened. Sapna says what happened. Thapki says she will convince Preethi and bring her. Thapki says to Preethi what she is doing here is wrong and nobody will be happy because of it. What you are doing is not love but stubbornness and it will not you to move forward in your life. Preethi says I haven't gone to Sagar but Sagar came to me and made promises. Preethi asks Thapki when Purab is marrying Hansika have she backed down. She says you sorted it out. The same way I will sort it out.
Episode ends.
Click to read