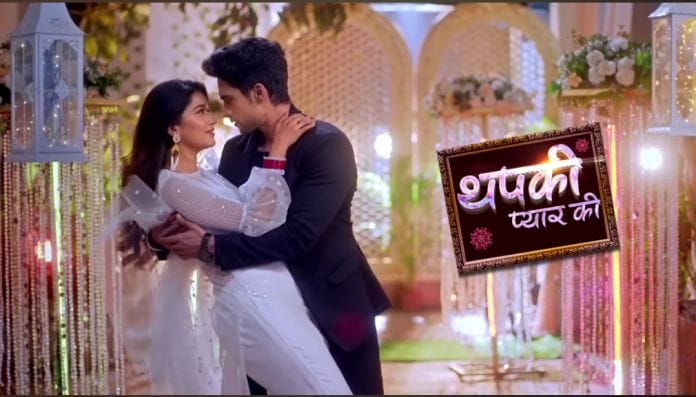 Thapki Pyar Ki 2nd April 2022 Written Update on TellyExpress.com
The episode starts with Thapki trying to wake up Preethi. Dadi feels dizzy seeing the scenario. Sapna makes her sit then she slaps Sagar for ruining the lives of Preethi and Priyanka. Sagar tries to go towards Preethi but Thapki warns him to not come near her. Purab brings Doctor. Doctor treats Preethi and tells them that they have to inform the police as it's a suicide case. Sagar says he will get arrested if police enter this case. Doctor tells he can't help. Sapna signs Purab to manage. Purab request the Doctor to compress the matter from Police. Doctor asks who will take responsibility if something happens. Thapki tells him she will take responsibility of Preethi as she is her cousin. Doctor agrees and leaves asking them to take care of Preethi. Sapna thanks Thapki for saving her son. Sagar tries to say something but Thapki stops him and sends them outside telling she will stay with Preethi.
In the night Purab goes to Preethi's room and notices Thapki is sleeping beside Preethi. She wakes up in shock. Purab tells her she needs some rest and takes her outside with him to have some fresh air. Purab and Thapki discuss they become each other support to cross the difficulties of life. Purab says Preethi will get someone who understands her. Thapki thanks him for supporting her. Purab tells her he learned it from her. Thapki sleeps on his shoulder and tells him that she learned romance from him. Purab smiles. They hear Preethi coughing sound and rush to the room. Thapki makes Preethi have her tablets.
The next day, Thapki performs Aarti. Everyone joins Aarti. Dadi tells Thapki that everything will be better soon. Thapki comes to Priyanka with Aarti and asks if she is angry with her. Priyanka says yes and you're the sister of Preeti that's why you worried for Preeti the whole night. Anshul comes there and tells Thapki is good to take care of everyone. Ashok apologies to everyone from Preeti's side and tells Sudha brought up is wrong. Anshul says it's a mistake of Preeti and Sagar so not to blame their Mom's brought up. Veena agrees. Vinod asks Ashok to take Preethi with them. Preethi comes there telling them she won't come with them. Ashok insists on her to come telling her he won't let her break the married life of Sagar. Preethi says Sagar doesn't love Priyanka that's why he comes to me and she is not making him happy. Priyanka gets angry and leaves from there. Sagar follows her.
Preethi denies leaving. She feels dizzy. Anshul takes her to room. Ashok cries for her daughter. Thapki tries to comfort him. Ashok apologises to Thapki telling her he is unable to do anything even after knowing Sudha and Preethi are ruining your life. Thapki holds him. Sagar begs Priyanka to not leave the house and requests for a second chance. Sapna requests Priyanka to not leave. Sagar holds Priyanka's feet to give him another chance. Priyanka says you can never change as it's your habit. Anshul asks Preethi how she feels if the same thing happens to her? How do you expect that Sagar will be truthful to you? And Sagar needs forgiveness of his wife and not you so open your eyes to see the truth and even if you get Sagar then that will be your defeat as he wants Priyanka. Thapki says Anshul is correct so understand otherwise in the future you can't face yourself.
Episode ends.
Click to read