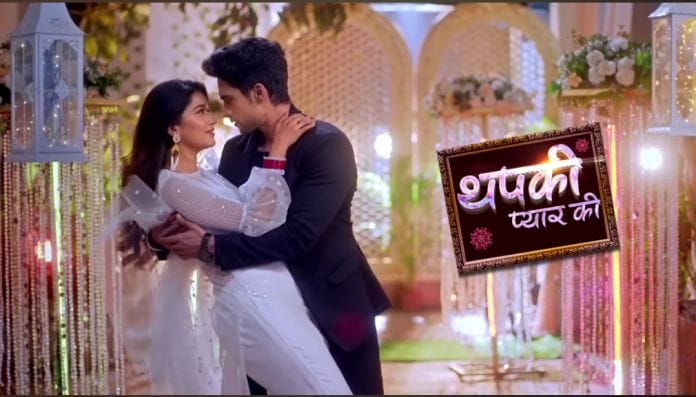 Thapki Pyar Ki 7th April 2022 Written Update on TellyExpress.com
The episode starts with everybody being worried about Sargam. Purab says to Thapki to show her hand and says you never take care of yourself. He puts medicine on Thapki's wound. Thapki stares at him. Purab says why are you staring she says you are my husband and she has a right. Purab says you first go to sleep. Thapki stops him and tells him to sleep here. They get cozy and enjoy each other's company. Sagar feeds Priyanka and promises to her he will only have her in life and nobody else. He also promises he will not share his love for her with anybody else. Priyanka also promises that she will be so close that there will not be a third person between us.
Next morning, Thapki accidentally collides with Purab. He kisses her on the cheek. She is about shout then Purab closes her mouth and asks her to not disturb Sargam's sleep. He tells her that he prepared cupcakes for Sargam. Thapki says let's plan something special for family members too he agrees. Later Dadi feels happy seeing the food. Veena takes Thapki to her practice room and tells her that she can practice in her room and tells her that her position is in the practice room to win the heart of people not in the kitchen. Thapki promised her that she won't disappoint her.
Dadi eats ice cream telling them she is eating in happiness. She tells Veena that she wants Sargam to recover soon and wants to witness Purab's marriage with Thapki. Veena receives a call then she tells Dadi that Pandit finalized tomorrow is the good day for marriage. Then she calls Jaya and informs her about the marriage date. Jaya feels happy. Veena asks them to come soon to take care of the arrangements. Jaya informs to Ashok about it. Ashok tells he doesn't want Preeti to participate in the marriage so I will stay at home and go there with Anshul and perform Thapki's marriage grandly. Anshul agrees. Jaya also agrees. Jaya takes her Mom gifted saree and tells Ashok that she will give it to Thapki. Ashok agrees.
Thapki walks into her room, Purab showers flowers on her and picks her up. Purab says to her, your Guru has finally accepted you. Thapki tells she can touch the sky. Purab tells her the first song is blockbuster and they paid the first payment successfully. Thapki tells she is happy to help her family. Purab thanks her and gifts her a smartwatch and says now our heart beats are connected too and tells her that their watches are synchronized. Thapki smiles. He teases her. She is about to leave but her dupatta struck to watch. Purab says God doesn't want us to get separated and he goes closer to her to kiss her.
Episode ends.
Click to read