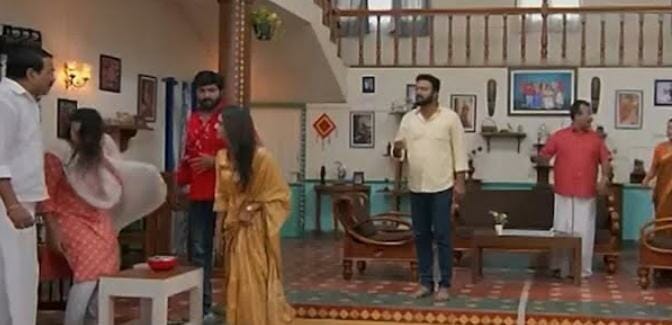 Thavamai Thavamirundhu Upcoming Story, Spoilers, Latest Gossip, Future Story, Latest News and Upcoming Twist, on TellyExpress.com
Thavamai Thavamirundhu is a newly launched show in Zee Tamil. The story revolves around an old couple Markandeyan and Parvathy who has worked their entire life to provide their kids with a better life. Things take a turn when Markandeyan retired. The serial focuses on the untold aspect of the elderly couple and the problem they face.
Previously we have seen Sita wish to participate in the function. The next day, Markandeyan and the family are getting ready for the function. Uma and Thanichalam staged an act. Ravi urged Sita and Markandeyan to cut the ribbon.
In today's episode, Sita and Markandeyan are proud of Ravi. Ravi and Priya distribute the sweets to the guests. Ravi and Priya urge Sita and Markandeyan to open the name board. Sita's emotional moments. Uma gets furious to see Priya and Ravi.
Markandeyan advises Thanichalam to speak to Uma. Thanichalam argues with Markndeyan. Raja and Revathi purchase groceries from Ravi's superstore. Uma irks to see Ravi and Priya together.
The next day, Priya comes home to take Ravi to the shop. Purposefully, Uma taunts Ravi in front of Priya. Uma talks badly about Priya and Ravi. Priya slaps Uma when she humiliates Ravi.
Why does Malar refuse to go to college? What is Raja's move?
Will Malar and Pandi live together? Will Markandeyan settle Raja's money?
Will Sita and Markandeyan go out of the home?
Keep checking this space for the latest update on your Zee Tamizh