By Smita Pal| Cast: Anil Kapoor, Aditya Roy Kapur, Sobhita Dhulipala, Tillotama Shome, Saswata Chatterjee and others.
Director: Sandeep Modi
Streaming on Disney +
Language: Hindi
Runtime: 45 – 60 Minutes per episodes
Plot
The webseries begins in Bangladesh with the Rohingya situation escalating into street violence. The whistle-blower is a 14-year-old child bride of a Bangladeshi businessman.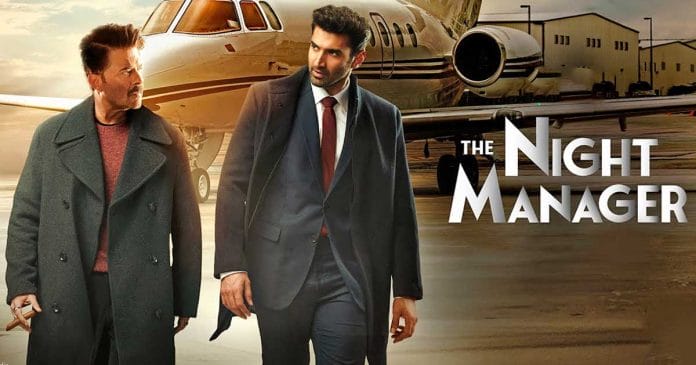 The night manager of a posh hotel in Bangladesh, Shaan Sengupta (Aditya Roy Kapur), becomes embroiled in a dangerous plot involving an Indian arms dealer named Shailendra "Shelley" Rungta (Anil Kapoor), but the Indian intelligence, which includes corrupt officers, is reluctant to apprehend him.
Shaan, who is still troubled by the nightmare of Bangladesh, has now shifted base in a Shimla hotel where he meets Rungta and his group of friends. They include his gay sidekick (Saswata Chatterjee), his girlfriend (Sobhita Dhulipala).
Shaan spies them and reports what he sees to Lipika, who devises an elaborate plan without her seniors consent to integrate Shaan into Rungta's Sri Lankan empire.
Shaan risks his life for the task despite his lack of apparent reason, making friends with Rungta's son in the process.
Despite the extensive background check that Lipika doctored, Rungta and his assistant are unsure of Shaan's identity.
Performances
Anil Kapoor has the talent to captivate the audience without even trying, despite his underutilised status.
Aditya Roy Kapur, who is all chiselled and attractive, does not have the appearance of a broken man.
Saswata Chatterjee and Tillotama Shome are good in their part.
Sobhita Dhulipala has nothing much to do other than being the eye candy.
Script/Direction
Sandeep Modi serving as director and Priyanka Ghose being the co-director have managed to show the story on the surface level by incorporating local sensibilities, politics, and emotions into the main plot but misses the intricate detailing that keeps the Le Carré novel big.
Final Verdict
There are no surprises for fans of the spy genre. But you can definitely give it a watch. However, the main portion of the story has been cut from Season 2, so viewers won't see any more action or drama until June 2023.
Trailer Link – https://www.youtube.com/watch?v=6QJQysiUxKc