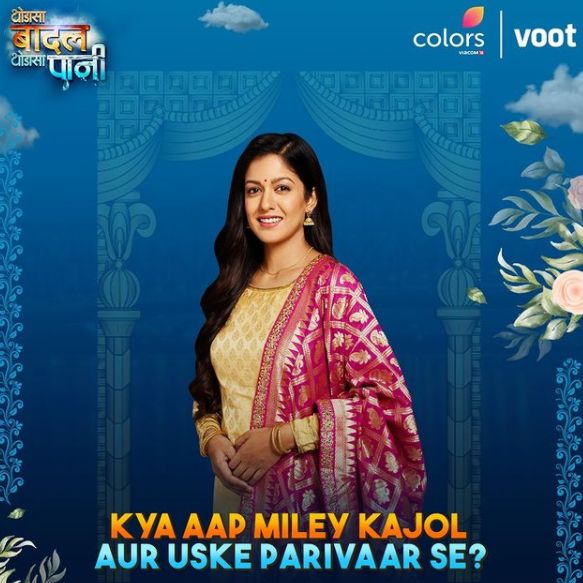 Thoda Sa Baadal Thoda Sa Paani 15th October 2021 Written Update on TellyExpress.com
The episode starts with Anurag making Kajol sit safely in the car and fighting with the goons. Anurag fights with the goons and all of them run away. Anurag is hit on his head while fighting and falls unconscious in Kajol's lap. Kajol calls ambulance and police comes. They click photos of the Doctor Anurag and bring him to hospital. Doctor tells Kajol no need to be worried the wound was not deep but he is unconscious,we will shift him to ward you can meet him after sometime. Kajol's family gets worried for her as it is getting late.
Naina calls Arjun and tells him Kajol hasn't returned home yet. Arjun tells she might be roaming with Anurag. Arjun tells till yesterday he was having a doubt but now he is confident something is going on in between Kajol and Anurag. Naina tells Arjun yesterday Anurag came to drop Kajol but did not even enter the house and left the house like a thief and on the other hand even after so much happening with you,you came to meet everyone in the house.
Kajol comes to Anurag's room and he gains consciousness. Kajol feels relieved that Anurag is fine. Anurag's aunt and father come to hospital and ask him how all this happened. Anurag's aunt thank Kajol for bringing Anurag to hospital. Anurag gets angry and tells Kajol what was the need to inform his family for such minor injury. Anurag shouts at Kajol and tells he will take his decision and asks her to leave. Anurag's father tries to calm him but he doesn't listen to him.
Kajol starts crying and leaves from there. Anurag's aunt scold him for behaving like this. Anurag's father tells him that the receptionist called him not Kajol.
Anurag's aunt tells him she helped you much and is this how you thank her? Anurag's aunt apologizes to Kajol for Anurag's behavior and tells Kajol not to cry. Kajol tells her not to apologise. Anurag's aunt tells Kajol did not make any mistake,Anurag is always angry and he doesn't know how to express himself. Kajol tells she knows Anurag has a very good heart. Anurag's father tell him if he is angry on him take out the anger on him not on others who are trying to help him. Anurag's father offers to drop Kajol home but she tells him he should stay with Anurag.
Kajol is walking home alone. Thakur Maa and Chandana gets worried about Kajol. Chandana tells Thakur Maa to make Kajol understand staying out so late is not good. Naina wonders if Thakur Maa knows about Kajol and Anurag as she always keeps defending Kajol. Anurag thinks of apologizing to Kajol and telling her what he feels about her. Chandana tells Kajol not to forget the rules of house because her father is not here. The episode ends with Thakur Maa praying no more problems come in Kajol's life.
Click to read