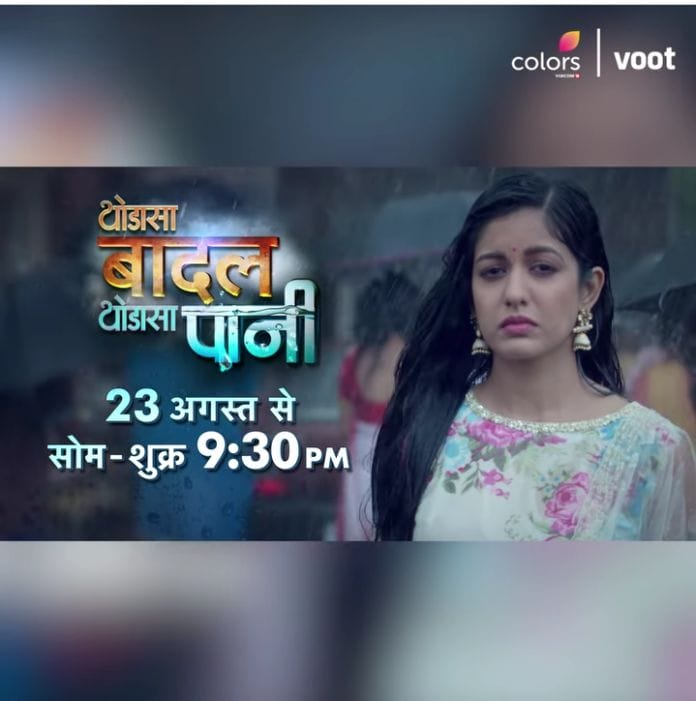 Thoda Sa Baadal Thoda Sa Paani 1st March 2022 Written Update on TellyExpress.com
The episode began with Naina telling Apu she has sent Anu to Kajol's room to bring something. Apu thinks Anu will tell everyone about Kajol missing from her room and rushes upstairs. Apu tells Anu to promise him not to freak out and keep quiet. Anu asks Apu where is Kajol and why is she not in her room. Apu tells her that Kajol went to bring Bulti. Anu tells why didn't he go to bring Bulti and can't she come on her own?
Apu tells her that her father has kept her under house arrest and won't let her escape. Anu scolds Apu and tells why did he let Kajol go alone and not accompany her. Apu tells that Kaushik's father has kept someone to keep an eye on him and they would have shifted Bulti. Anu tells they are really dangerous people. Apu tells her not to worry and act like everything is fine as Anurag and Kajol will handle everything.
Kaushik watches Anurag and Kajol entering his house from balcony and rushes inside. Kaushik scolds Bulti and threatens her to kill Apu if she opens her mouth. Kaushik calls Arjun and tells him about the situation. Anurag and Kajol come inside and find Bulti. Kaushik acts being ill and lies down. Kajol tells Bulti not to fear now as they are here. Anandita tells why would she be afraid she is with her parents. Anurag tells Bulti he has called police and she doesn't have to worry about anything.
Bulti tells the police that she is here by her own wish. Police tells Anurag they respect him a lot but it was unprofessional of him to waste their time like this. Bulti recalls Kaushik threatening to kill Apu and remains silent. Anurag tries to convince Bulti to speak the truth but Anandita tells him not to pressurise her daughter. Bulti tells she wants to stay with her father as he is ill. Anurag asks Bulti to show Kaushik's reports to him. Anurag tells the reports are useless and nothing has happened to Kaushik.
Arjun comes to Kajol's house and scolds her for not keeping an eye on Kajol. Naina tells Kajol is still inside her room. Arjun tells Naina she couldn't even do one job properly. Naina realizes Kajol may have escaped disguised as an old lady. Arjun tells Naina to bring Apu down by making any excuse. Kajol tells Bulti that once they leave no one will be able to save her. Anurag tells they are here and won't let anything happen to Apu. Kajol tells Bulti not to fear anything and speak the truth. Anandita tells Kajol to leave her daughter alone. Kajol is about to leave but Bulti stops and hugs her. Bulti tells Kajol how they took her phone and threatened to kill Apu if she left. The episode ends with Kaushik accepting faking being ill and keeping Bulti forcefully.
Click to read