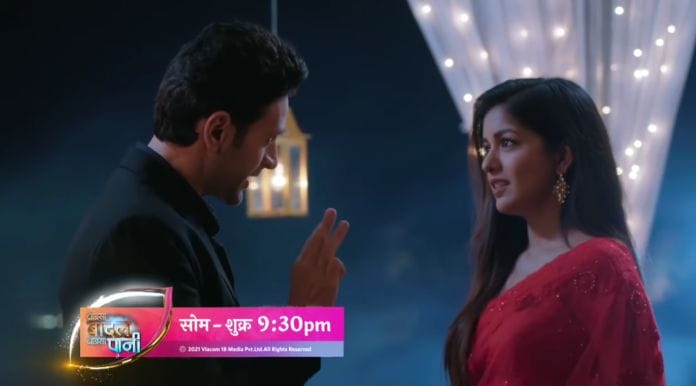 Thoda Sa Baadal Thoda Sa Paani 22nd February 2022 Written Update on TellyExpress.com
The episode starts with Naina saying why does everyone keep dragging her name with Kajol. Kaushik tells because she is from their family and they took her daughter away. Arjun asks Kaushik why doesn't he bring his daughter back? Arjun tells to defeat them we have to play like them. Anandita tells what can we do when Bolti doesn't want to come back. Arjun tells Naina should go there as she is on our side. Arjun tells he will bring Bolti back in this house and he won't forgive Anurag and Kajol for helping Bolti. Anandita tells we won't let Kajol fulfil her dreams by marrying Anurag. Naina tells this won't ever happen and she would never let Kajol's status be higher than her. Arjun tells Naina from now you will do what we tell you. Naina tells she would do everything to ruin Kajol's marriage and bring Bolti back to the house.
Chandana and Thakur Maa decorate the house. Anu and Chandrika come after shopping and show everyone their dresses. Chandana asks Apu did he bring cheque as she doesn't want Naina to create any drama today. Thakur Maa tells Kajol is giving such huge amount to Naina and telling us to spend less on her wedding. Naina comes bearing gifts and sweets for everyone. Naina tells today she wants to participate in Kajol's Aashiwaad. Thakur Maa tells when Naina talks sweet she is afraid that there is something wrong. Naina tells why don't they say clearly that you don't like me. Naina gives gifts and dresses to everyone.
Anurag and his family comes to Kajol's house for aashirwaad and Anurag keeps looking aroung for Kajol. Anu notices Anurag and tells Bolti let us take him to Kajol. Bolti pushes Anurag in Kajol's room and locks him from outside. Kajol is getting ready and tells Anurag to help her wear saree. Anurag helps Kajol get ready and stares at her as Maahi Re plays in BM. Anurag gets close to Kajol and Bolti knocks on the door and tells Sharmila is calling him. Kajol tells Anurag to go as his aunt is calling him. Anurag tells Kajol he will leave after he gets what he wants. Kajol asks him what does he want? Anurag asks for a kiss but Kajol playfully pushes him out of the room.
Anu and Chandrika bring Kajol down. Kajol takes blessing from Bishu. Sharmila gives necklace to Kajol. Naina tells the necklace is so heavy. Anu and Chandrika tells Naina even she received a necklace so what is the big deal. Naina tells her necklace was not this heavy. Chandrika tells it doesn't matter. Chandana sends Naina away by telling her to look at the starters in kitchen. Doorbell rings and Naina opens the door and tells Priyanka she came at the right time. The episode ends with Priyanka entering Kajol's house.
Click to read