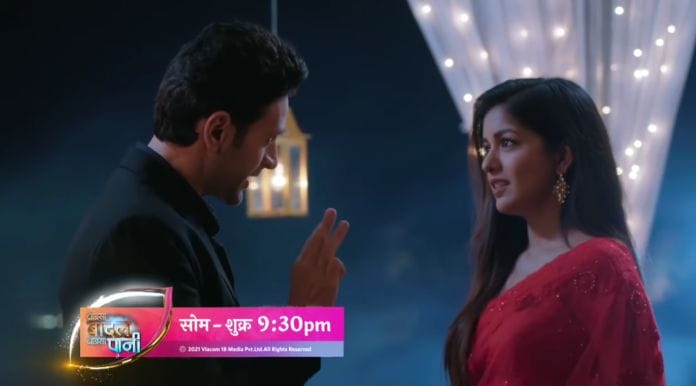 Thoda Sa Baadal Thoda Sa Paani 7th February 2022 Written Update on TellyExpress.com
The episode starts with Kajol telling Anurag's father to understand if he starts changing the house Anurag's heart will break and he will start thinking he may never be able to walk again. Kajol tells even if there is one percent chance of Anurag being able to walk again we should give our hundred percent to it. Sharmila tells she supporte Kajol. Kajol tells God is watching everything and it will be alright. Anandita tells Dida Maa that Kajol is eyeing Anurag's property so keep your eyes open. Sharmila tells Dida that does she still not realize her mistake after what Priyanka did?
Sharmila tells Dida Maa to try to understand the goodness of Kajol and understand the diamond she is as she is still willing to help us and Anurag even after being insulted so many times. Anurag's father tells his mother could have never watched him in this condition. Kajol tells Chandana she wants to ask something from her,she tells Chandana that Anurag needs her so she wants to stay with him till he is completely cured? Chandana tells with what right and relationship will you do this? Kajol tells this is her duty and she can't back,she tells Anurag saved her life twice and this is the time to pay it back.
Kajol tells she has stopped thinking about people and all she cares about is Chandana. Bolti tells Kajol she can take care of Anurag. Kajol tells Chandana to give her permission and let her go. Kajol's aunt tells her that she will bring Anurag back on his feet. Kajol thinks the darkness will definitely fade and she will do it. Kajol dresses up and thinks she will do everything Anurag likes and recalls Anurag telling her he likes her fully dressed up with jhumkas and bindi. Kajol asks if Anurag will like her? Bolti tells she is looking very beautiful.
Anurag wakes up and recalls his accident. Kajol asks Anurag if he is okay? Anurag shouts at the nurse for leaving him alone and tells her he is a patient now and no longer a doctor now.Anurag tells Kajol he wants to rest and asks Kajol to leave. Kajol tries to plead to stay but he shouts at her and tells her to leave. Anurag tells himself he doesn't have any other way but to do all this with Kajol. Sharmila apologizes to Kajol. Kajol tells Anurag is in shock and she knows he is doing all this to keep her away from him. Kajol tells Sharmila not worry she will stay with Anurag till he is fine.
Kajol tells even if Anurag pushes her out she won't leave. Naina tells she wants equal rights and she tells why will Kajol have everything so she wants her share from the business. Naina tells Arjun wants to start his business and needs some money. Bolti tells she doesn't think we should talk about this now,we should do so when Kajol comes. Chandana tells Bolti is right and Naina should talk with Kajol. Kajol remembers Putul and thinks of an idea to please Anurag.The episode ends with Anurag wondering why is the house decorated.
Click to read