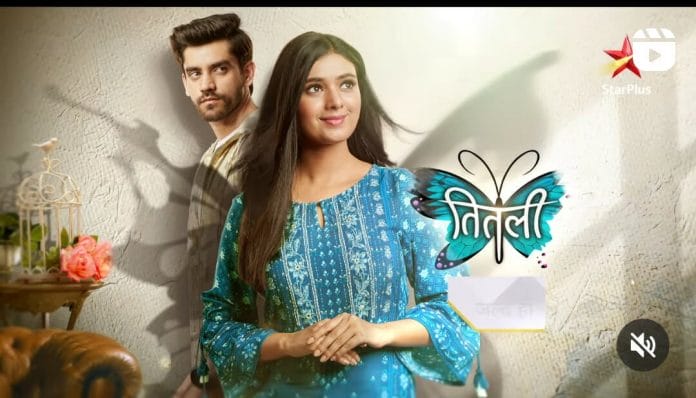 Titli 19th September 2023 Written Update on TellyExpress.com
The episode starts with Koyal slapping Garv and questioning him how can he hit Titlie. She gets hyper and tells she is unable to believe her son can do something like this. Garv cries and leaves from there. Maina gets angry at Koyal for slapping Garv. She blames Titlie for embarrassing Garv. Koyal tells not to support his wrong doing but Maina insists that Garv loves Titlie a lot so he has right to do so but Koyal tells against it. Manikant angrily questions Koyal who gave her right to raise hand on Garv when he himself has never done it.
Koyal says she has done Garv's upbringing and can smilingly accept his anger but raising his hand on a woman is absolutely wrong. She tells about Garv as a child after Chiku's death suffered a lot blaming himself for the same. Koyal questions what have Manikant and Maina does as parents for Garv, as it was her who shared his pain. She asks then why they did not stop her back then and remind her that Garv and Chiku are not her sons. Manikant loses his temper hearing Koyal's words and raises hand to slap her but Titlie holds it to stop him leaving everyone shocked.
Titlie tells she cannot let Manikant repeat the same mistake. She says how Garv's anger is spoiling all his relationship. She says about feeling helpless and being unable to understand what to do. Titlie says she really loves Garv so she doesn't want him to suffer from his childhood trauma that's why she took him to psychiatrist because she feels his anger issue can get better if he is freed of the guilt from childhood.
Garv walks aimlessly thinking of Koyal's hurtful words. He feels upset recalling the slap from Koyal. Garv picks up ice box from one of street vendor and throws on his head. He gets into argument with the vendor when he tells about forgetting wallet. Other guys also gather around, and Garv even gets into physical fight. Megha comes there and saves him from getting hurt and takes him along with her. Titlie worries about Garv not responding to her calls and texts. Dhara apologises to Titlie for telling about the matter infront of everyone. Titlie tells she did wrong as it should not have come out to all that's why she had kept quiet too.
Maina blames Titlie for humiliating Garv. She tells her that Koyal lost her husband because of herself and Titlie is doing same by driving Garv away. Garv asks Megha to leave him and he will repay her. But Megha invites him to meet her to repay. Titlie tells Megha that she and Garv both love each other and no one can come between them. Dhara feels guilty and blames herself for everything. Titlie consoles Dhara and Garv comes home drunk. Maina pushes Koyal away when she tries to look after him. In drunk state Garv gets into argument with Manikant. The episode ends with Garv going hysteric after hearing Manikant's words.
Precap Titlie and Garv celebrate together and he tells about changing himself for Titlie and making their relationship even more stronger.
Click to read