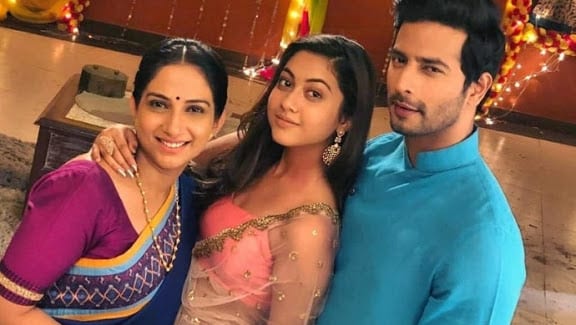 Tujhse Hai Raabta 11th July 2020 Written Update on TellyExpress.com
Episode starts with Kalyani argues with Malhar stating why he send her resignation to Trilok from her Gmail. Sharad and Priya looks confused. Malhar says I never did it. Kalyani says you're the one who knows about my Gmail password and you don't want me to work as Suhana caretaker, still Trilok is ready to help us for Moksh. Malhar says Moksh is my kid and I know how to take care of my kid. Both fights and ends their calls.
Priya thinks I used to feel Malhar and Kalyani are best couple but seeing their fights it's scary. Sharad says is it bad idea to getting married. Priya says it won't happen with every couple, Anjali,Vikram are happy couple right , both calls Anjali and notices how she is scaring Vikram. Anjali mistakenly cuts Pallavi hair.
Pallavi in tears informs her husband Vivek that her hair is ruined. He asks her is Priya husband is one in the poster outside the hotel. Pallavi says yes than Vivek thinks to inform matter to Aaosaheb before Priya life gets ruined.
Sharad and Priya become fearful about getting married. Kalyani calls Trilok and apologies for resignation letter and agrees to become Suhana caretaker. Trilok says I know you will be the best care taker. Kalyani says I will meet Suhana after marriage.
Sharad and Priya informs Malhar and Kalyani that they want to cancel their marriage. Kalyani asks why you changed your decision. Sharad and Priya says seeing you guys we lost the faith in the marriage. Kalyani and Malhar talks romantically and convinces Priya and Sharad that their is lots of love between them. Sharad and Priya smiles seeing them.
Vivek informs Aaosaheb that Sharad used to have living relationship in Mumbai. Aaosaheb gets angry after knowing his living relationship status and asks him to inform it to Kalyani.
Kalyani says to Malhar that it's good if Priya and Sharad takes suggestions from Sarthak and Anupriya Aayi because their are elders and can clear doubts. Malhar agrees. Kalyani feels suspicious that someone outside her room but their is none when she went to check.
Anjali gets pendrive near her door. Trilok thinks how you handle your upcoming problems Malhars. Sarthak and Anupriya clears doubts of Priya and Sharad, & assures them marriage is beautiful.
Aaosaheb knocks Sharad door, he hides Priya and opens the door. Kalyani and others listens their talks thorough video call. Aaosaheb says I know you used to live with some girl in Mumbai and now your marriage won't happen with Priya. Sharad tries to clear it but Aaosaheb leaves.
Priya asks what happened. Sarthak says my assumptions become true. Malhar asks is Aaosaheb accusations are true. Sharad says yes but the girk is Priya itself.
Anjali knocks the door and notices Priya with Sharad. Anjali says so you're the girl from CCTV , you're living with Sharad before marriage, I will asks Aaosaheb about her values and reveals that she is against marriage. Priya cries. Sharad tries to console her. Kalyani says she will talk with Aaosaheb. Priya says maybe marriage is not written in my fate. Malhar says everything will be fine. Kalyani assures them to perform their marriage in her way. ���>