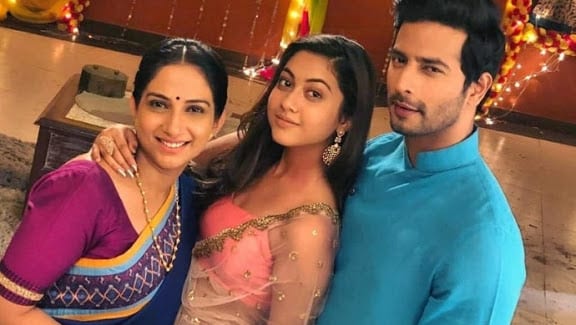 Tujhse Hai Raabta 13th February 2021 Written Update on TellyExpress.com
Episode starts with Anarkali takes Kalyani and Godavari to tempo place. Godavari asks how she knows. Anarkali says she knows everything. Kalyani says she will teach these men a lesson. Anarkali Shera goes saying she will teach them a lesson. Goons about to attack but Anarkali teach them lesson and in-between she says Shera. Kalyani says Shera. Shera manages saying I'm Shera aunt and he send me here to take care of Moksh and he took promise from me that's why I didn't inform you before.
Kalyani says sorry for sending Shera and he stars to love me but I can't love anyone except Malhar that's why. Anarkali says Shera didn't expected any love from you right, he is happy with his one side love and Shera asks them to leave with tempo. Kalyani and Godavari about to take tempo but goon tries to attack her with knife, Anupriya saves her in time. Kalyani asks how her Aayi reached to this place.
Anupriya says Godavari messaged me the location and glad you found the truck. Kalyani says Anarkali mausi found the truck and she is Mausi of Shera. Anupriya says but you both are belongs to different languages. Anarkali says time is less so let's go.
At home Sarthak and Avni tells to Patil that Anupriya and Kalyani might ran away with your money. Patil says he starts auction. Aaosaheb asks him to wait but he asks Aaosaheb to sign on papers. Aaosaheb records video saying Patil is trying snatch her NAL emporium and scares him to upload video in the social media. Patil stops. Avni gets her men call and thinks how Anarkali found Truck place.
On the way Kalyani says Moksh calls Shera is hero but you're real hero Mausi. Shera smiles and his ball gets dropped. Avni asks his men to do something to stop Kalyani and Anupriya. Vehicle tire gets punctured. Sarthak says you have only 15minutes Aaosaheb. Anupriya and Godavari says it's tough to take these parcels. Men informs to Avni that tempo tore is punctured. Avni feels happy.
Sarthak says don't worry Moksh, I will secure your future. Moksh says he just needs her Aifi. Sarthak shows Auction papers to Patil. Kalyani pours water in papers. Anupriya and Godavari brings sarees to home with carts help. Anupriya happily hugs Kalyani. Kalyani asks Patil to check the sarees they prepared for him on time. Anarkali says someone from house might stealed these sarees.
Aaosaheb says we finished your order but how can you take your insult back? Patil gives cheque to Anupriya and apologies to them for his behaviour and he increases his investment in NAL emporium. Anupriya thanks him. Patil leaves.
Anupriya about to give cheque to Kalyani but Kalyani says it's good with you and my Victor is my Moksh and Kaka now we don't have any work with these pots, Kalyanii breaks them. Avni thinks to found who's Anarkali helping Kalyani and she checks the room. Anupriya gives cheques to workers.
Avni founds wig and balls in Anarkali box. Anupriya stops Sarthak and says woman don't need marriage or husband because she is enough for herself and now men and woman are equal, remember this point. Avni thinks whether Anarkali is Shera.
Click to read: