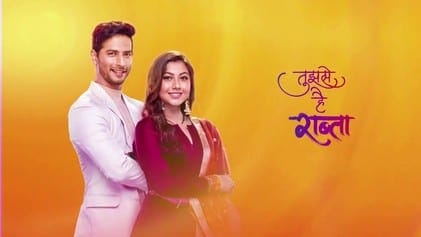 Tujhse Hai Raabta 16th April 2021 Written Update on TellyExpress.com
Episode starts with Malhar says machine is not working properly and he asks Pawar to return the machine saying Kalyani can never lie. Anupriya makes Sunitha sleep in her bed. Sunitha holds Anupriya hand. Anupriya asks if regain her memory?Is your husband is fine or not. Sunitha leaves her hand. Anupriya thinks to inform it to Kalyani than she gets call from unknown number. Meenakshi says she feels machine is working correctly. Malhar says sorry but I won't even believe God to in this matter because Kalyani can never lie to me. Kalyani leaves after getting emotional. Meenakshi says hope Kalyani didn't get hurt, I'm just kidding. Malhar says she is getting late for Haldi Kumkum looks that's why left hurriedly.
Atharv in unknown voice threatens Anupriya saying he knows what they did that night and I even had that man corpse to prove your crime. Anupriya gets tensed knowing Sunitha husband is died and she tries to asks who's talking with her but Atharv cuts the call without answering her. Kalyani comes out of the station and regrets to break Malhar's trust than she notices her car at station. Anupriya calls Kalyani and Kalyani informs her that her car is near Police station. Anupriya tries to tell her she is coming but Kalyani can't hear her voice because her phone goes switched off. Kalyani site in her car but She gets scared seeing blood stains on the back seat.
Meenakshi asks Malhar to leave home to help Kalyani in her Pooja. Malhar asks if she coming. Meenakshi says yes and I need to divert my mind from my husband because until now I didn't receive his call. Malhar tells her everything will be fine. Anupriya takes Kalyani with her before Malhar caughts them. Kalyani asks why she looks worried. Anupriya tells her how Sunitha lost her memory because of accident and how unknown man is threatening her. Kalyani breaksdown while blaming herself as murderer. Anupriya says console yourself, we have to make Sunitha to regain her memory to know about her husband dead body location. Kalyani agrees.
Pawar informs to Malhar that someone left their car at station. Malhar goes to car and checks everything than he founds the blood stains in back seat, he asks Pawar to send blood sample and things to forensic department. Pawar says even Kalyani Mam have same car right. Malhar says yes and he asks Pawar to check the number plate. Pawar says number plate is missing. Malhar asks him to inform him once he get the report. Anupriya and Kalyani requests Sunitha to remember where she left her husband body. Aaosaheb goes to that room and asks Kalyani and Anupriya to get ready for Pooja. Malhar gets to know Anupriya didn't give any Mangalsutra to their Jeweller and he thinks maybe she gave it to other jeweller but Kalyani must wear the Mangalsutra for Pooja.
Kalyani feels bad while thinking Pramath death and she day dreams that Malhar didn't see her face if he founds it and she comes out from her dream when Malhar makes her wear the Mangalsutra. Kalyani thinks it's not correct time to reveal truth to Malhar. Aaosaheb welcomes guests. Kalyani comes to hall. Anupriya says we have to search other way because Sunitha is not remembering anything, hope Haldi Kumkum Pooja goes well. Malhar says Pooja will be good because you guys done these preparations with so much hardwork.
Episode ends.
Also Read: