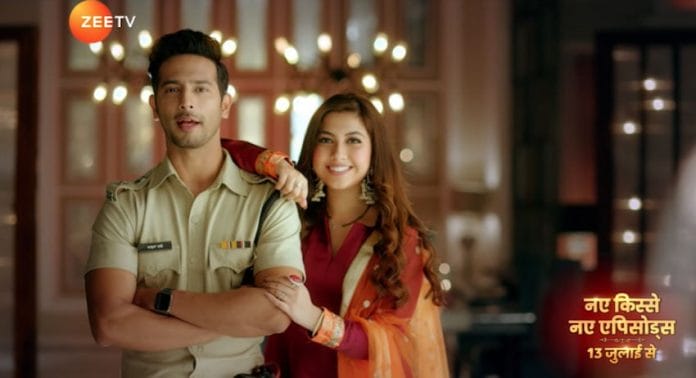 Tujhse Hai Raabta 1st July 2021 Written Update on TellyExpress.com
Episode begins with Anupriya asking mihika whether she is fine. Mihika nods in yes. Anupriya's car's tyre gets punctured and the car stops. Anupriya gets worried thinking that now the plan and the route will be changed. Anupriya thinking to call Kalyani tells mihika that they should call a cab but mihika stops her saying that there is a car coming and runs towards it without listening to her. Anupriya runs to her and asks her as to why did she run. Aparna lowers the windshield and Anupriya gets shocked seeing her. Aparna smiles evilly at her. Anupriya asks her as to what she is doing here. Mihika pushes her in to the car before Anupriya can understand the happenings and the car rushes away with her.
Kalyani with the whole family stops near Anupriya's car. They wonder about it when she gets a call ftom Aparna who tells her that she knows Anupriya better than her. She tells her that her over acting gave away their plan. Kalyani gets scared. Aparna challenges her to find her Mother and gives her a time. Kalyani tells them that she got to know about the plan and kidnapped Anupriya. Sarthak and Malhar think of a way while aausaheb gets worried. Kalyani tells Malhar that she heard a sound of hammer from behind which means it is a closed factory. Sarthak says that there is one in the end of the street. Malhar says there is no other good place to hide a person.
Anupriya asks Aparna as to what did she need and asks her to leave her for her family. Aparna says that the family she is calling hers is not hers but her's but she snatched it along with her daughter. Aparna has Anupriya tied with her on the treadmill. She tells her that it has a bomb fixed on it and if she stops running then the bomb will explode and she will die. Anupriya starts running. Everyone reaches there except for kalyani, Aparna threatens to kill aausaheb by pointing knife on her neck. Aparna asks mihika is see why the phone is ringing. Mihika gets shocker seeing the whole thing going live. Kalyani closes her mouth from behind.
Aparna forwards her hand towards Kalyani thinking it's mihika but Kalyani arrests her. Sarthak holds her stopping her. Kalyani saves Anupriya and gets on the treadmill. Anupriya is not ready to leave. Finally Malhar manages to save Kalyani. Aparna and Mihika is arrrested.
In the home Anupriya and Kalyani keeps sweets plates on the dining. Kalyani asks her about the special treatment for Son in laws. Gangothri comes there with gifts. Aausaheb asks Kalyani and Anupriya to proceed to which they make their husbands wear padka on their heads. Anupriya prays for her Family's well being to Lord Ganesha. The Screen Freezes On Anupriya.
Also Check: