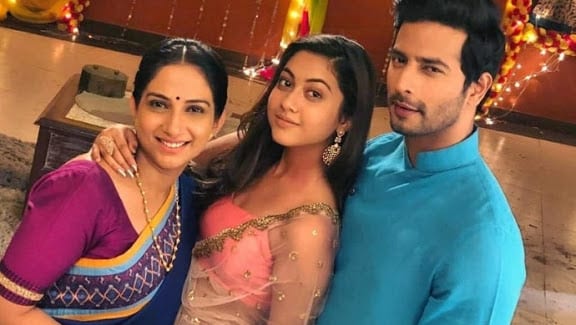 Episode starts with Malhar says I don't remember the seven vows. Kalyani asks him to say whatever he wants to from his heart, which he wants to take with his wife. Malhar takes pheras with Kalyani. For every vachan Kalyani says how she gonna help him to fulfill it, Malhar gets surprised. Kalyani says I got to know the meaning of every vachan from net after our marriage so it will help me to fulfill it. Malhar says this is Last vachan I will live and die with you in next 7janams. Kalyani says I will be with you for 7 Janmas.
Malhar asks Kalyani to leave because their pheras are completed. Kalyani says I can't leave you and reminds his vachan. Malhar says you're too stubborn and leaves with her.

Aaosaheb asks Anupriya to never let Madhuri snatch your rights. Pallavi says sarees colours get combined and blames Anupriya. Madhuri tries to intervene but AAO saheb asks her to stay away from their matters. Madhuri says it's belongs to Atul and Kalyani so asks them to handover workshop to her so she can earn for Kalyani and suggest AAO saheb to keep competition between her and Anupriya, who gains more profit gonna handle this workshop. Aaosheb says no but Anupriya says I'm ready for my daughter and I will win this competition for her future.

Malhar searches for map he saw with Naxals. Kalyani and Atharva also helps him to search the map. Kalyani got the map. Naxal gets call from circar. Malhar takes the phone but it's gets switched off. He says maybe naxals boss got doubt because cc TV cameras are not working. Atharva shows some redspot on map. Malhar says it's in the jungle near Wearhouse mostly prisoners kept in that place.

Next morning Aahir wakes up in car because of circar call. Malhar and others reach that spot and searches everywhere in different directions for prisoners. Kalyani falls down in the pit and shouts calling Malhar. Malhar asks her to give her hand. Kalyani finds someone's hand in the pit and tells Malhar someone is here. Malhar moves to pit and searches for people.

Aahir attends circar call and says I don't know what happened and I'm reaching to camp and that Sarkar is informer of police but I wont allow Malhar to escapes.

Malhar takes out one kid from pit whose legs and hands are tied and asks him is there any more people. Kid shows him other side and Malhar continues to search. Aahir wakes up every Naxals and ask them to search Malhar. Malhar takes out few more members from pit and he asks Atharva to search with Durgaprasad if their is any other people at far places. Kalyani and Malhar searches pit for other kids.