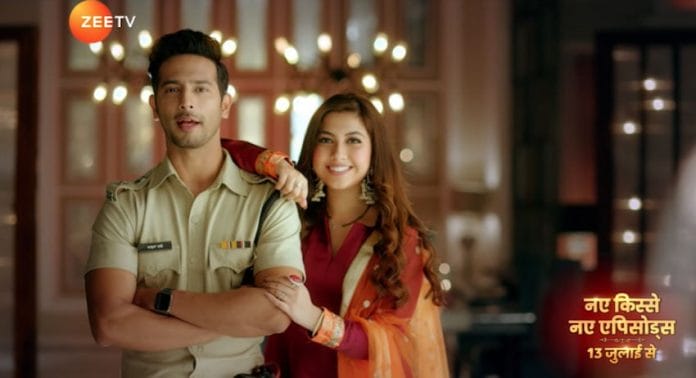 Tujhse Hai Raabta 28th June 2021 Written Update on TellyExpress.com
Episode begins with Kalyani searching Aparna's handbag but didn't find anything. She sits on the bed tired and helpless.
Mihika tells Aparna thar now as she is introduced as Anupriya she can transfer the properties to her name if she continues the act to which Aparna says that she deserves to be flop actress. She says, for mihika to continue as Aparna, Anupriya needs to die and after that even Kalyani won't be able to deny that mihika is Anupriya as till then they would have introduced her as Anupriya to the world. Mihika while talking breaks the glass. Aparna scolds her. Kalyani comes there and asks them as to what they are talking to which mihika covers it up by saying that she is again trying to prove her as mihika but not Anupriya. Kalyani takes mihika with her.
Kalyani sees Aparna dragging Anupriya from behind who is calling out for her. Kalyani follows them by the roop top falls on her leg. Kalyani calls out for Anupriya. Anupriya who is sleeping on her bed wakes up. Mihika who is dressed as Anupriya leaves from there. Anupriya comes running out of her room for kalyani. Kalyani sees her and panics. Malhar comes and makes Kalyani stand after helping her. Aparna is about to get Anupriya but Sarthak stops her. Aausaheb, Kalyani, Sarthak and Malhar form a circle holding eachother tightly stopping Aparna from reaching her. Aparna breaks the hold but gets shocked seeing Mihika there instead of Anupriya.
Aparna tells them thar now she knows that Anupriya is in this house hence she will prove it but Kalyani throws her out of the house along with her bag.
Sarthak says that tomorrow they will introduce mihika as Anupriya to the officers. Kalyani denies the idea and decides to make them understand about Anupriya's accident and the situation.
Kalyani makds Anupriya ready and tells her not to say anything for one hour. Anupriya agrees as Kalyani says that gungun will be snatched from her if she speaks anything.
The officer from the orphanage tells them that Aparna has accused them of something bad. Kalyani says that she will explain but before than aausaheb cones with Mihika and introduces her as Anupriya. Aparna says that she is an actress but mihika covers it up with emotional words. The officer calms her down. Aausaheb remembers how Sarthak and her decided to show mihika as Anupriya.
Aausaheb takes Kalyani into her room and tells her that she don't want to snatch gungun from Anupriya anymore and leaves from there. Kalyani decides to bring Anupriya infront of the world shocking Malhar. The Screen Freezes..
Also Check: