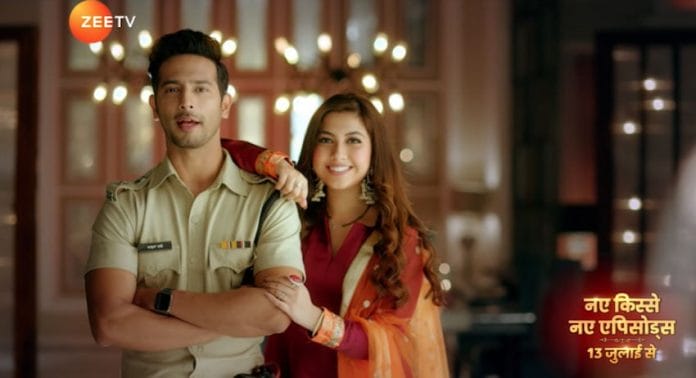 Tujhse Hai Raabta 5th July 2021 Written Update on TellyExpress.com
Episode begins with Anupriya praying Lord Ganesh to keep her family happy are safe saying that now finally after long everything got fine. Sarthak side hugs her ahd tells her that everything will be alright and nothing will happen. Everyone side hugs each other and they dance on a song Ek dusre se karte hain pyaar hum. When a car and police jeeps come and stop outside their house. The family is dancing and spending time together. A woman gets down from the car along with some policemen and enters the house. They stop dancing seeing her. Sarthak says Indhuji confused.
The woman introduces herself as Indhu Sarkar and asks Malhar as to where is her son. Malhar gets confused and asks her about it. Indhu tells him that he messaged her son and asked her to meet him outside but he is still not home and asks him to tell her about her son. Malhar says that he didn't send any message to anyone. Indhu shows him the message on her son's phone. Sarthak sees the message. Indhu asks police men to take malhar's phone and check it. The police constable reluctantly steps forward but Kalyani asks him to stop and says that her husband is commissioner to which Indhu says she is very powerful and she can even call DGP.
Malhar takes his phone out. Kalyani snatching the phone runs away and locks herself in a room and calls someone asking them to know whether Malhar's phone is hacked. Indhu accuses Kalyani saying that she will deleted it but the family supports her. Kalyani opens the door and tells them that she hae called to know whether the phone is hacked. Anupriya asks indhu to hear what Kalyani said. Kalyani says that the phone is not hacked and the message is sent. She asks indhu for sometime to which she gives her one hour.
Kalyani along with Malhar searches for a clue and she gets an earing. She gets a message and says that indhu's son is waiting at coffee shop for his friend and she knows who is that.
Aausaheb slaps Godavari and asks her as to why she has done it. Kalyani and Anupriya assure her to tell them the truth and she tells them that she loves him and has used Malhar's power to get him out of the house as indhu locked him. She says her video with him got viral and she will die without him. Anupriya says that they will talk with Indhu about the alliance.
Anupriya with family except for men is sitting in Indhu's house who asks them to leave saying she don't want a girl like Godavari as her daughter in law. Godavari tries to cut her hand but Anupriya slaps her and yells at indhu questioning her. Indhu realising her mistake agrees for marriage.
Godavari hugs Anupriya and Kalyani. Kalyani praises Anupriya. Anupriya wonders as to how many Godavaris are there.
Anupriya is sitting on bed thinking about Kalyani's words who said thar there won't be any Godavari if they has someone like Anupriya. The Screen Freezes On Anupriya, Tujhse Hai Raabta on the note and Kalyani.
Also Check: