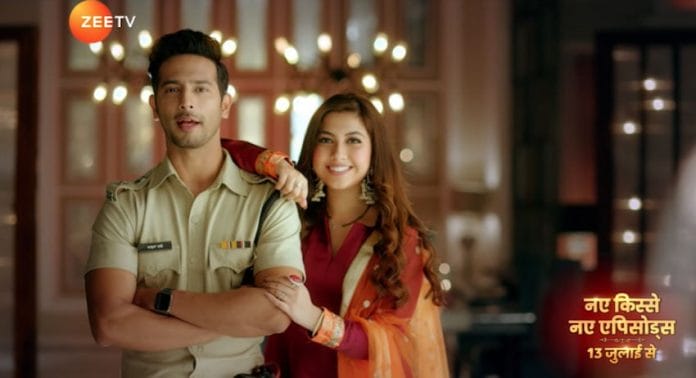 Tujhse Hai Raabta 7th July 2021 Written Update on TellyExpress.com
Episode begins with Kalyani asking Malhar whether she should be silent when her mother is in the jail. Malhar asks her to not to do anything which may complicate the matter. Kalyani argues. Aausaheb asks her as to why she is not understanding. Aausaheb tells her that indhu was scared when it happened and asks her not to do anything which may cancel the wedding as it is important for Godavari. Kalyani is reluctant. Godavari requests her holding her hands.
Kalyani meets Anupriya who asks her to do what Aausaheb asked her to do. But Kalyani denies. A constable shows her the file and Kalyani smiles deciding something.
Malhar calls Kalyani but she is not lifting the call. Kalyani video calls him and tells him that she is on shopping. Malhar gets confused but she cuts rhe call. Kalyani changes her get up into a fish vendor and with a basket in her hands she walks in the market. A woman from the market keeps the sharp knife on her neck and asks her as to what she is doing here and who is she when they see a man in fish vendor get up saying she is his wife in a drunk. The man is none other than Malhar. Malhar asks in a drunk voice to the woman to kill his wife as she is torturing him. The woman says she was confused otherwise why would she hurt her. Malhar says she can kill her later but before that he wants ro talk with her. Kalyani notices a woman hiding money and they both act like fighting. Kalyani tells Malhar the same. Malhar falls on the woman's basket and they are shocked to see the money. Kalyani asks about it. The smuggling fish vendors in the market threaten him but he shows them gun. Other police men come there. A man tells Malhar about the group that pays them in sending the money. Kalyani shows the pic of the woman who tells her that she is dead and used to work here.
Indhu and the family is waiting for kalyani. Kalyani brings Anupriya home. Indhu asks Anupriya to stay away from the rituals as she came from jail. Anupriya and Kalyani give it back to her and indhu asks them to start the ritual. Anupriya does the ritual.
Kalyani asks Malhar to sit with her but he denies as he is upset with her stunt. Kalyani follows Malhar to his room where she tries to console him. Anupriya is watching them. Malhar says that he knows how to keep Kalyani busy and says that they should give moksh a sibling. He pulls her closer and Kalyani hugs him.
Aausaheb frantically calls everyone. Aausaheb shows the empty jewelry boxes and says they are theft. She denies Malhar from filing a complaint. She gets worried thinking as to how they are going to get the jewelries on time. The Screen Freezes..
Also Check: