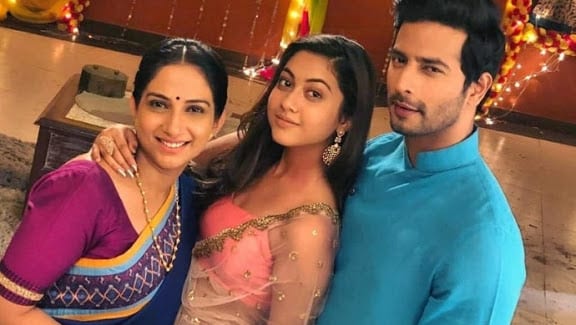 Tujhse Hai Raabta 8th September 2020 Written Update on TellyExpress.com
The episode starts with Kalyani says Aayi only you can help Avni. Anupriya says I won't help the murderer's wife. Kalyani says what's Avni's fault in this and she tries to take her but Anupriya denies it.
Kalyani says I will ask Aaosaheb and she will send you then I will see how you won't come. Pallavi earns Anupriya saying never think to make your daughter married to Damini son breaking my daughter Alliance.
Aaosaheb says Damini might cancel our grant. Kalyani tries to speak but Vivek stops her saying we are ready for Godavari Rishta but what's our fault If she changed the person. Godavari says I won't marry him because I too have self Respect.
Pallavi asks her to forget everything saying Vikram is powerful but Godavari leaves angrily. Kalyani says I will talk with Goda and she says to Aaosaheb that Avni needs blood and she asks Aaosaheb to send Anupriya to give blood to Avni. Anupriya says I have a condition to give my blood. Kalyani asks what's your condition.
 Anupriya says wear this bangle. Aaosaheb reminisces how she manipulated Anupriya saying it's a good match and if Kalyani won't marry than Malhar ruins her life so we have to send Kalyani from here making her married to Vikram. Anupriya asks what about Godavari. Aaosaheb says I will search another groom for Godavari and you're Kalyani Aayi so think about her. Anupriya agrees. Aaosaheb asks Anupriya to make Kalyani agree with her.
Anupriya asks Kalyani to marry Vikram. Aaosaheb acts and asks why you're forcing her. Pallavi says you both want to break my daughter's alliance. Kalyani says I won't marry anyone and when she about to throw bangles Anupriya stops her saying tell everyone that you don't want to marry because you love that married men and it's in your blood and you mom did the same thing.
Aaosaheb looks surprised. Kalyani cries saying it's not the correct time for discussion. Pawar calls Kalyani and informs her that Avni and baby condition is deteriorating. Kalyani says I'm coming. Anupriya asks her to wear the bangle. Vivek asks Aaosaheb to stop her. Aaosaheb the says Anupriya won't listen to me also. Kalyani says I can't do this.
Anupriya says than leave it Malhar will lose his wife and baby. Kalyani says don't say in that way. Anupriya says than wear the bangles and she makes her wear the bangles. Kalyani cries helplessly. Aaosaheb signs Anupriya that she is doing good and everyone looks at them in shocked mode.
Jitendar stops Malhar saying drink tea,you're working from 4 hours. Malhar says let me work because my wife needs blood. Aaosaheb enters saying it's good seeing you in sweat but Kalyani Is coming with Anupriya.
Malhar notices them. Kalyani says Pawar went to bring Doctor and Aayi is here to donate blood. Malhar says I can arrange the blood and breaks wood but wood flies and about to hurt Kalyani but Anupriya comes in between them and gets hurt. Kalyani nurses her wound with kerchief. Malhar apologizes to her. Anupriya shouts on him saying how many times you hurt Kalyani? She is here to help you even though you tried to Kill her. Kalyani says he didn't do it intentionally.
Aaosaheb says it's visible how much you love Avni but you never loved our Kalyani and I'm sure Kalyani future husband Vikram will love her and he is son of textile minister Damini and our Kalyani is happy and I will invite you to Kalyani marriage because we need workers and mocks him.
 Malhar and Kalyani get tears. Kalyani says we have to leave to the hospital. Aaosaheb asks Kalyani to give a Suspension letter to Malhar. Kalyani says she forgot. Anupriya says I bought that letter and gives it to Kalyani.
 Aaosaheb reminisces how she makes Anupriya do this. Kalyani handover s suspension letter to Malhar. Aaosaheb asks them to return home quickly once their work at the hospital is done.