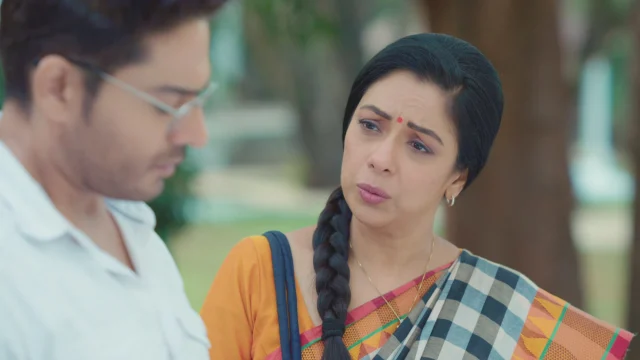 Anupama Upcoming Story, Spoilers, Latest Gossip , Future Story, Latest News and Upcoming Twist on TellyExpress.com
Show Anupama will see MaAn's honeymoon next. In today's episode, Anuj tries to get close to Anupama. Anupama feels sleepy. Anuj helps Anupama in the kitchen.
Anuj helps Anupama to take off her jewellery. Anupama blushes, song phela phela pyaar hai plays in the background. Anuj carries Anupama to the bed. Hasmuk prays to God. Pakhi asks Samar to serve tea to Hasmuk. Samar says to Pakhi that she only know to order her elder brother. Leela and Vanraj returns.
Pakhi asks Samar to get tea for Leela and Vanraj as well. She asks about great grandmother. Leela informs she is well. Vanraj says Jignesh is with her. Partiosh and Kinjal come.
Vanraj takes care of Kinjal and says to her that in Anupama's absence she needs not to worry. Kinjal gets smitten. Leela finds Kavya messaging someone on mobile. She doubts her intention.
Leela confront Kavya about talking with Anriudh. Kavya says to Leela that she is sorry for speaking to Anirudh. But now Anupama's wedding is over and now she will meet and call Anirudh home too. Vanraj shouts at Kavya.
Kavya shouts at Vanraj back. Vanraj complaint to Kavya that not a single day he lived at peace with her. Kavya gets angry at Vanraj and asks if he realises now how it felt when you meet with your ex. Vanraj asks Kavya what's her problem? Kavya demands a divorce from Vanraj.
In the upcoming episode, Anuj will plan a honeymoon with Anupama. At Shah house, Vanraj will order Shah's to move on from Anupama as he is alive to run the house. How Shah's will react on Vanraj's demand? Where MaAn will go for their honeymoon? Well, keep watching the show to know more
Stay tuned for more TV serial updates!