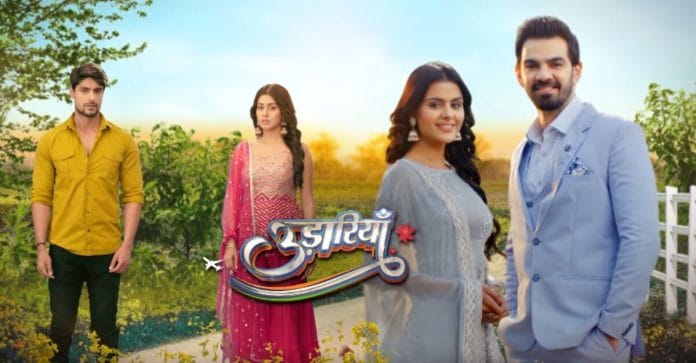 Udaariyaan 11th May 2022 Written Update on TellyExpress.com
The episode starts with Amrik saying to Fateh to have faith on God, He will save Tejo again. He motivates Fateh to not give up. He says that he will make Tejo understand that he didn't try to kill her. He assures that Fateh will get back Tejo. Amrik hugs Fateh. There Tejo drops the food given by Angad doubting that he might have mixed something. She says that she can't eat anything as her hands are trembling. She runs from there. Here Fateh says that Tejo won't listen to Amrik when she didn't listen to him. Amrik says about all the sacrifices Fateh did for him and says that now it's his turn to help Fateh. The latter wonders how they will find Tejo.
Fateh is standing on a bridge and he is sad remembering Tejo's hateful words. Amrik and Jasmine see this. Amrik says to Jasmine that he checked in the café and in Tejo's apartment, but she's not there. He says that Tejo could be in Angad's apartment. He says that he will go there to find Tejo, he got Angad's address from Fateh's phone. Jasmine says to Amrik to not go there as it can be dangerous for him. But Amrik says that he has to go as he can't see Fateh in this condition. He further says that he promised Gurpreet that he will bring Fateh and Tejo back to India. Other hand Angad is looking for Tejo.
In India Mahi is crying sitting in her room. Abhiraj messages Mahi. She reads it and throws the phone on the bed. Gurpreet comes to Mahi and finds her nervous. She asks if she's sick to which Mahi replies yes. Gupreet says to Mahi to rest and leaves. Gurpreet wishes to tell Mahi that Tejo is alive, but stops herself as she promised Amrik that she won't tell about it to anyone in the family. Jasmine and Amrik come to Fateh and convince him to go home and make a plan to save Tejo. The trip begin to leave. The scarf flies. Fateh catches it and notices Tejo. The latter also sees Fateh. They both run towards each other. They hug. Jasmine and Amrik see Tejo. Tejo apologize to Fateh for not believing him and trusting Angad. She says that she learned now the truth. Jasmine and Amrik come to Tejo. They all four share a hug. Tejo thinks that this is the only way to know the truth.
Mahi messages Abhiraj scolding him and asks who he is. Abhiraj messages Mahi to find herself who she's. Mahi cries regretting her act. In London Tejo says to Fateh that Angad wants to kill her again. They should hand him to the police. Fateh and Amrik assure her that nothing can happen to her when they're with her. Amrik clicks a selfie of them four. Fateh wants to inform Rupy and Satti about Tejo being alive. Tejo says that they have to make Angad pay for his crimes before that. Jasmine agrees with Tejo. Fateh promises Tejo to do the same.
Fateh asks Tejo if she still doesn't trust him. Tejo says that she was living thinking that he tried to kill her. Now she learned the truth, but she is still having some hesitation. Fateh says that he can understand her. Tejo says that she can't believe that Angad can stoop so low. Fateh says that he understood him long back. Tejo says a plan to trap Angad. Fateh doesn't want to put Tejo in risk again. Tejo requests Fateh to let her take this risk to get Angad arrested.
Angad is in call with someone and says about Tejo reading the message in his phone when he was in the washroom and runnig away. Just then Tejo comes to Angad and says that Fateh tried to kill her again. Angad understands that Tejo is acting. He decides to act too. He gives a tablet. Tejo asks for water. Angad gets her water. Tejo takes the tablet and faints. Angad says that now he will end this story.
The episode ends.
Precap: Tejo kicks Angad and runs away. Angad chases Tejo. Angad shoots Tejo. Jasmine and Fateh look on shocked.
Click to read