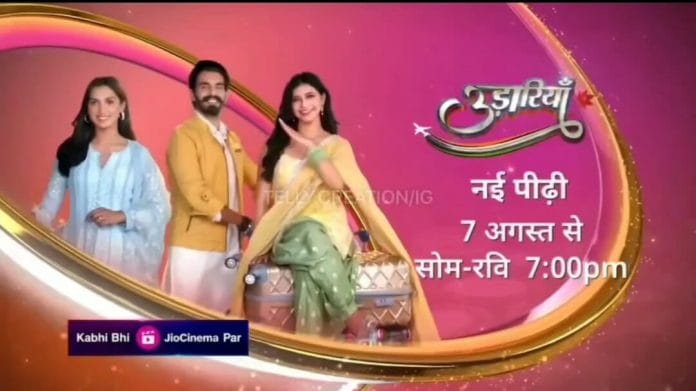 Udaariyaan 13th November 2023 Written Update on TellyExpress.com
Episode starts with Armaan sitting like a security guard outside Aasman's room. Aasman lies down on the bed and thinks that there's peace and tension both in this room. Next morning, Armaan bakes a cake for Aasman with Raja's help. Rano hopes that some miracle happens and Aasman doesn't go back after her birthday celebration. Aasman comes to the hall and sees that everyone is busy with the decorations. Armaan stands on a stool for the decoration while Armaan almost trips. Aasmaan saves him from falling.
Aasman finds a black dress on her bed that she loves. She recalls the previous times when the stalker kept a dress for her. She takes out the pepper spray out of her bag. Then she turns around and sprays it aiming at the stalker but it appears that it was Armaan behind her. She takes her to the washroom and washes his face and takes care of him. He says thanks for letting them celebrate her birthday. Aasmaan says that she didn't do it for him and would leave the next day.
Ekam says to Nehmat that he is confused about what to give Aasman as they are invited by Deepak. Alia suggests that he makes a collage of Aasman's childhood pictures and gives it to her. She says that she would help him with that. Ekam is still annoyed at Alia and doesn't speak to her. Everyone gets ready and gathers for Aasman's birthday party. Armaan calls a clown at the party. He whispers to Aasman that there's a surprise for her. He unveils a big picture of Aasman and wishes for her. Aasmam recalls the times when she used to tell Deepak that Veer Zaara kind of love can only happen in India and asked him to take her to India. Everyone claps after seeing the surprise. Aasman trips in Armaan's arms. Alia feels hurt to see all this.
Armaan had called a joker for the birthday to make everyone laugh. Suddenly the joker arrives at the party. He touches Aasman from behind while she gets scared. Then he wishes her Happy Birthday and makes her dance. In reality there's Kabir behind the joker veil who has a plan to abduct Aasman and celebrate her birthday alone with him. The joker starts a magic show and everyone enjoys it. Armaan feels good to see a smile on Aasman's face. He brings Aasman's birthday cake that he specially baked for her. Suddenly the light goes off. Hobby calls Armaan to hurry up and check the wires since there's fire. He realises that someone has done it on purpose. He runs to check on Aasman. The joker touches Aasman from behind and she screams loudly. Episode ends.
Precap : Aasman panics and tries to call Armaan but she finds out Alia and Armaan making out in their room!
Click to read