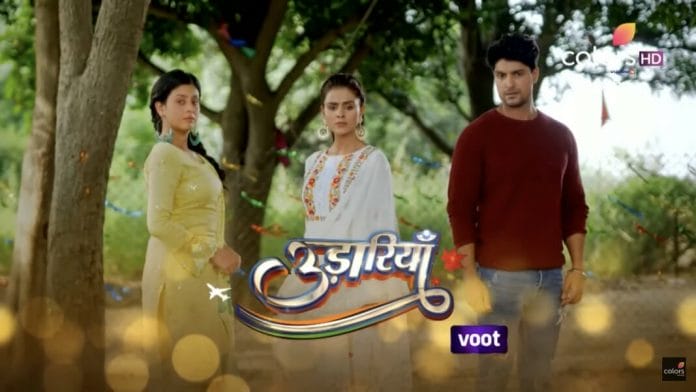 Udaariyaan 13th October 2022 Written Update on TellyExpress.com
The episode starts with Tejo returning home and calling out to Nehmat. Fateh blindfolds Tejo. He makes her sit. He removes the blind fold. Tejo sees the arrangements for the foot massage and asks what it is. Fateh puts Tejo's feet on his lap and starts to massage them. He says that they had been stressed in the past few days, especially Tejo, so he thought of doing her foot massage when no one is at home. Tejo thanks Fateh. She asks about Nehmat.
Fateh says that she's at Sandhus house, playing with Naaz. She will return after dinner. Fateh further says that Nehmat knows the truth that they all know and she accepted Naaz. He says that Jasmine once again came into their life and changed everything, but everything was fine after her departure. Tejo gets worried about Nehmat discovering the truth. Fateh says that they should forget about the truth as they never knew it. He says that he wants to lead a happy and peaceful life with Tejo and Nehmat.
Meanwhile, Nehmat and Naaz are playing with the Sandhus. Naaz gets jealous seeing Nehmat getting more love and attention from the family. She pretends to fall to get her family's attention. The family and Nehmat rush to Naaz and care for her. Naaz gets happy. Nehmat wipes Naaz's tears. Rupy recalls Tejo wiping Jasmine's tears and smiles. Nehmat takes Naaz to play outside of the house. Rupy says to Satti that Tejo used to care for Jasmine like Nehmat is caring for Naaz, but Jasmine never valued Tejo's care and only gave her pain. Rupy wishes that the same shouldn't happen to Nehmat and Naaz. Satti says that Nehmat got Fateh and Tejo's good values, but she's scared that it will create problems for her.
Fateh is reading the students' teacher's day message for Tejo. Just then, Nehmat comes there and is surprised to find a lot of gifts. Tejo says to her that they got gifts on the occasion of teacher's day. Nehmat gets the card she made for them since the parents are children's first teachers. Fateh and Tejo encourage Nehmat to pursue her dream. Tejo gets Mallika's call. She gives the phone to Nehmat.
Nehmat receives the call. She agrees to come to Mallika's house the next day to play with her. She then remembers that she invited Naaz to their house and wonders what to do. Tejo says that the next day is Sunday, so she asks Nehmat to go to Mallika's house for a half day and invites Naaz home for the remaining half day.
Fateh is cooking while talking with Tejo. They remember their first meeting that started with a fight. On the other hand, Nehmat and Mallika are playing with the doll house. Ekam breaks their doll house by throwing a ball. Ekam sits to play video games. Nehamt takes the remote control. She refuses to return it to him until he fixes the doll's house. They fight. Here Fateh and Tejo laugh, remembering their old days. There, Ekam chases Nehmat to take the remote from her hand. Here Fateh reminds Tejo how she used to fight with him and once threw lassi in his face. There Nehmat and Ekam fight. Ekam breaks the vase mistakenly. Ekam hides by dragging Nehmat along with him when he hears his dad's voice. Mallika also hides.
Ekam and Mallika's father calls out to them. Mallika pretends to discover the broken vase. He asks where Ekam is. Mallika says that he isn't here. He asks her not to lie. He leaves from there after receiving a call. Here Fateh says to Tejo that they always saved each other from the problem. There, Nehmat asks Ekam why he stopped her from telling his dad that they broke the vase. He says that dad would scold them and hit them since he was angry. Nehmat and Ekam start to argue again about lying. Mallika stops them. Here Tejo says that the people who are destined always end up crossing each other's path.
Nehmat welcomes Naaz to her house and introduces the Virks to her. Naaz finds Nehmat's house very big. Fateh and Tejo say that it's her house too and they can visit it whenever she wants. Naaz sees Nehmat's bicycle. Nehmat says that her parents gifted her when she came first on her class. Naaz says that her parents are very nice and sadly says that she doesn't know where her mom is. Nehmat asks Naaz to ride the bicycle, but Naaz refuses, getting scared. She asks Nehmat to drive it. Nehmat obliges. Naaz recalls Jasmine saying that the elder sister gets everything without asking and the younger sister took time to realize it and Naaz will understand this with time.
Tejo asks Naaz why she didn't want to ride the bicycle. Naaz says that she's scared to anger Nehmat if she falls and the cycle gets damaged. She says that Nehmat is her only friend. Nehmat takes Naaz to show her her room. Tejo says to Fateh that Naaz is insecure due to what happened to her in Canada. Fateh says that Jasmine increased her insecurity by abandoning her. Tejo asks him to forget it and says that they should take good care of Naaz.
The episode ends.
Click to read