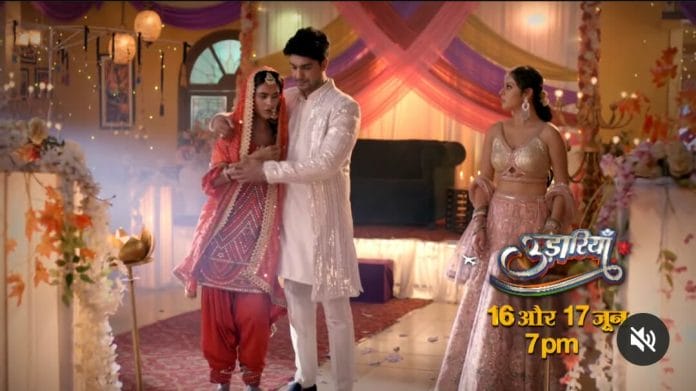 Udaariyaan 14th July 2022 Written Update on TellyExpress.com
The episode starts with Fateh saying that he refuses to accept any laws which will separate him from Tejo. He says that Tejo is his wife and no one change it. Gurpreet says that he has to change it. Gurpreet coughs badly. Fateh asks to get water for her. He says to Gurpreet to not worry and assures to do something to stop Jasmine from getting married. Other hand Jasmine is waiting eagerly for Fateh's call. Here Mahi asks Fateh what he is going to do. Fateh says that he has to do something. He asks Mahi to go in and says that he will do something. There Jasmine hopes that Fateh will propose her that day. Just then she receives Fateh's call. He asks Jasmine to meet him. Jasmine gets happy.
Jasmine meets Fateh hoping he will propose her for marriage. But Fateh shocks Jasmine asking to give him Amrit's child for adoption as she's going to Canada getting married. Fateh further says that he understood her game to separate him and Tejo using her child. He makes clear that he loved Jasmine once, not anymore and Tejo is the only good thing that happened to him because of that. He says that no matter what game Jasmine plays, she can't separate him and Tejo.
He asks her to marry whoever she wants, but she has to give her child to them. Jasmine says that court can never separate a child from her mother. Fateh says that court will give them her child if they expose her truth. Jasmine says that court won't even let him meet her child if I told about whatever Tejo and Fateh did with her. Fateh says that this child is Virks heir and court will definitely give them her child custody shocking Jasmine. Fateh leaves. Jasmine fumes in anger.
Fateh returns home. Gurpreet argues with Fateh. She says that he asked Jasmine to get married as he got Tejo. She asks Fateh to marry Jasmine. Fateh strongly refuses and threatens to leave the house if she forces him to marry Jasmine. He says that Tejo is his life and she will be with her till his last breath.
Tejo is talking to the toys and says that Fateh went somewhere. She says that Fateh's mom is angry now, they will play carrom when she will get convinced. Fateh comes and asks Tejo to pack her bag. Tejo asks if they're going to the dream house. Fateh says that no, they're going somewhere else. Tejo asks that he told that this is their house. Fateh says that Tejo is sacred to stay here, so they're leaving. Tejo gets happy.
Fateh comes with Tejo taking his bag. Gurpreet says to Fateh that he already did mistake of leaving the house when he loved Jasmine and now for Tejo. Fateh says that this time he is leaving for his love. Gurpreet asks if mom doesn't matter for him. Fateh says that she matters for him, but he can't stay in the house where not only his wife is accepted, even their marriage is called illegal. Gurpreet asks Kushbeer to stop Fateh. But Kushbeer supports Fateh's decision. Gurpreet challenges Fateh to fulfill Tejo's responsibility alone with family's help. She says that no one from the family will help him neither will give him money. Fateh accepts her challenge and assures to fulfill his responsibilities. Fateh leaves the house with Tejo. Gurpreet cries. Nimmo consoles her.
Buzzo brings Fateh and Tejo to a house. Fateh asks Buzzo to get a induction stove as he can't use gaz stove as Tejo is scared of fire. He gives Buzzo some money. He refuses to accept. But Fateh insists him to take it. Tejo comes calling out Fateh. The latter asks her to stop at the doorstep. He puts rice pot to do her welcoming. Tejo asks for red color water. Fateh throws some power. They enter the house together. Tejo is about to fall. Fateh holds her. Tejo says that he made her fall in the bathroom first and now here. Fateh recalls the same incident and gets happy that Tejo getting back her memories. Other hand Jasmine talks to someone over phone. She recalls Fateh's words and says that Fateh isn't as cunning as her to blackmail her. Here Fateh and Tejo play with splashing water on each other. Then they paint the wall laughing.
The episode ends.
Precap: Satti brings food for Fateh and Tejo. Jasmine says that Fateh will realize now that it's not all possible to handle Tejo alone.
Click to read