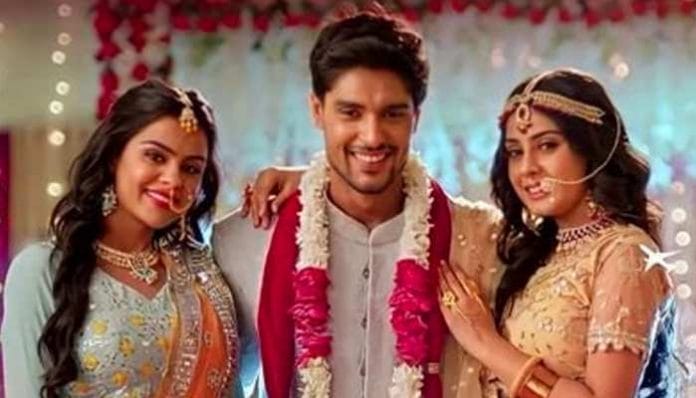 Udaariyaan 14th May 2022 Written Update on TellyExpress.com
The episode starts with Amrik breathing his last. Fateh shouts Amrik. He says to Jasmine to call the doctor. She obliges. Fateh cries and tries to wake up Amrik. Doctor arrives. He checks Amrik and says that he is no more. Fateh and Jasmine look on shocked. They recall their memories with him. They both burst into tears holding Amrik's body. They ask what they will answer Gurpreet and family. Fateh says that Tejo could do something. He asks where Tejo is. Jasmine says that she's not here. Fateh apologizes to Amrik and says that he has come to take him back and asks how he will go back to India without him. He cries. He remembers his talk with Amrik. FB shows. Amrik says to Fateh that Tanya is Tejo. He saw a dream.
In the dream they all four were in India, they got married and both Tejo and Jasmine were pregnant. They challenged each other who would give birth to the baby first and they both teased them. He says that it was a beautiful dream. He says that he is certain this will happen as Biji used to say the early morning dreams always become true. FB ends. Fateh wishes that Amrik could become alive again and his dream could be realized. Fateh and Jasmine cry hugging Amrik's body. The nurse and the wradboy try to take them away by force. Jasmine tries to run to Amrik's body. Fateh holds Jasmine crying. Amrik's body is taken from there.
Kushbeer and Buzzo come to Rupy and his party members. Kushbeer holds Rupy's collar and says that he played a dirty political game. He asks how he dared to use Mahi as pawn. Rupy asks what he did with Mahi. Kushbeer says that he made her video and leaked it. He further says that he knows that Mahi is innocent, Rupy's man must have done it upon his instructions. Rupy asks how he can think that he can do this, he has also daughters and understand the pain of defamation. Abhiraj says blames Mahi. He says that the whole college knows that she's dating boys secretly. He also saw her in the café. Buzzo remembers Mahi's talk about a boy and wonders if it was done by that boy whom Mahi went to meet the other day in the café. He wonders whether she met him again. Kushbeer warns Rupy to not spare him or his family if he learns that they are involved in this.
Jasmine and Fateh cry hard. Jasmine blames herself for bringing Amrik to London and asks what she will do now without Amrik. Fateh hugs her to comforts her. Jasmine asks where Tejo is. She says that she isn't with police. She called Tejo, but she refused to tell where she is. She asks Fateh to go to Tejo. She says that Tejo might be blaming herself for what happened. Fateh goes to find Tejo.
Fateh cries hard and shouts. Jasmine calls Fateh and asks if he found Tejo. Fateh says that he doesn't know where she has gone, she might be crying sitting somewhere. Here Kushbeer puts garland at Tejo's photo. He says that he doesn't want Fateh to return and gets sad remembering Tejo. Gupreet wonders how to tell Kushbeer that Tejo is alive and Fateh went to bring back Amrik and Jasmine. Simran asks Gurpreet if she talked to Fateh, when he is coming back. Gupreet says that he will come back soon taking Amrik and Jasmine. Simran gets happy on hearing this. Kushbeer says that it's good if Amrik and Jasmine don't come back. Gurpreet says that he started again. She says that he won't do anything like that. She says that when they will return, she will welcome Amrik, Jasmine and… Kushbeer asks who else. Gurpreet says Fateh. Biji says that Fateh is sad remembering Tejo and she can't come back. She further says that Amrik loves Jasmine very much and says to Kushbeer to forgive Jasmine for Amrik's sake. Gurpreet thinks that Tejo is alive and Fateh will bring her. She wishes to get them married in their house. Tejo comes to Fateh. She stops Fateh from hugging her. Fateh looks on confused.
The episode ends.
Click to read