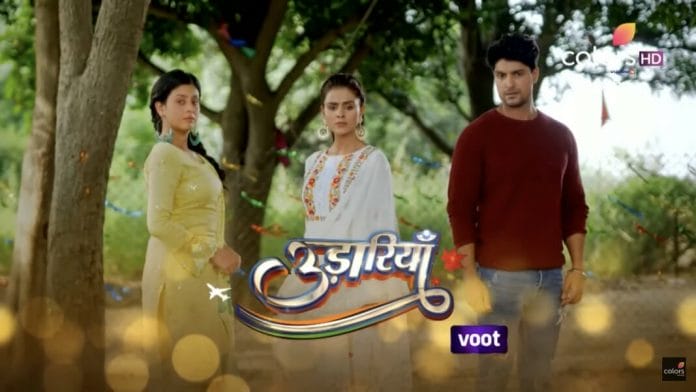 Udaariyaan 14th September 2022 Written Update on TellyExpress.com
The episode starts with Fateh and Tejo getting a new cycle for Naaz. Naaz is scared to accept it as her mom will scold her if she learns that she asked for a cycle for Tejo and Fateh. Fateh says that she didn't ask them, they got it. Tejo says that they noticed that she liked Naaz's cycle. She says that her aunt will get whatever she likes. Naaz thinks that it's a good trick. Naaz says that she doesn't know how to ride the cycle. Fateh teaches her. Tejo is worried that Nehmat may get upset about finding Naaz's cycle is better than hers. Fateh assures Tejo that Nehmat won't get upset.
In school, Naaz says to Nehmat that her parents got a new cycle for her and it's better than hers. Nehmat is happy that Naaz got her cycle. They decide to ride their cycles together the next day. Mallika gets angry with Nehmat for that and leaves, refusing to talk to Nehmat. The latter apologizes to Naaz and cancels their cycling plan. She goes after Mallika to convince her.
Fateh comes to pick up Nehmat. He finds Naaz sad. He asks what happened and where Nehmat is. Naaz says that Nehmat is playing with her best friend Mallika. Fateh asks Naaz to come home along with Nehmat to play. She refuses. She says that Mallika doesn't like that Nehmat plays with her. She asks Fateh to take back his cycle as Nehmat could get angry with her because of that cycle and she can't afford to lose her friendship. She says that Nehmat is important to her. She cries, saying whatever Mallika said against her. Fateh consoles Naaz. Rupy comes to pick up Naaz. Naaz waves bye to Fateh and leaves.
Shelly is arguing with her husband about Nehmat and Naaz also being the heir of Sandhus. Her husband says that Jasmine left Nehmat six years ago at Tejo and Fateh's responsibility and they accept her as their daughter and no one mentioned till now that Nehmat is Jasmine's daughter, not Tejo's. Nazz is shocked to learn that her mother is Jasmine's mother. She thinks that Jasmine left Nehmat in a big house while she kept her in her evil grandmother's house. She angrily looks at the cycle gifted by Fateh and Tejo. She runs from there.
Fateh and Tejo discuss Naaz's excessive fear and insecure feelings. Fateh says that they have to do something to prevent her from taking the wrong path to get people's love and attention. He says that they should remove her insecurity and boost her self confidence. Tejo suggests shifting Nehmat to their house and loving her as they love Nehmat so that she can overcome her insecurity and behave like a normal child. Fateh says that they can even adopt Naaz. Tejo says that it's a brilliant idea. They decide to talk to Nehmat to know her opinion.
Naaz is crying, sitting in her room. She asks why her mom left Nehmat in a big house where everyone loved Nehmat while she kept her with her evil grandmother and dad who tortured her. Elsewhere, Jasmine is talking about Naaz's photo. She apologizes to Naaz for abandoning her. She says that she left her at good people's responsibility, so she doesn't make any mistakes in her life.
Tejo and Fateh go to Nehmat's room. They see Nehmat having two helmets. Nehmat says that it's one for her and another for Naaz. She tells about Mallika fighting again for her playing with Naaz. She says to Tejo and Fateh that she wants to meet Naaz the next day so that they can play. She goes to find a knee pad for Naaz so she doesn't get hurt if she falls. Fateh says that they will talk to Nehmat the next day. Tejo says that Nehmat answered them with her care for Nehmat. Fateh worries that Nehmat will become another Tejo, who sacrifices her happiness for others. He further says that he doesn't want anyone to come between Nehmat's happiness, not even Naaz. Tejo assures him that no one will come between her happiness and reminds him that Nehmat is a boxer, so she won't let anyone come between her happiness.
Tejo, Fateh and Nehmat meet Naaz and Satti. Nehmat happily hugs Naaz. She makes her wear the helmet she brought for her. Fateh and Tejo notices that Naaz looks unhappy. Tejo asks Naaz what happened and tries to cheer her up by tickling her stomach. Fateh thinks that Naaz is upset with Mallika's words. He tells her that Nehmat brought help for her and they didn't tell her to get it. He makes her sit on the cycle. Nehmat and Naaz ride the cycle. Tejo asks Satti if Naaz is asking about Jasmine. Satti says that Naaz is asking about her mom every five minutes, but she's happy that Fateh and Tejo are there to take care of Naaz. She worries that Shelly will say anything which will hurt Naaz. Tejo assures Satti that everything will be fine and asks her to leave the responsibility of Naaz to them. Satti asks Tejo to drop Naaz at home and leaves for some important work.
Naaz gets jealous when Nehmat says that her parents take her to the park every day and they take her to the mall too. Later, Naaz's jealousy increases, seeing Fateh-Tejo and Nehmat eating ice cream and Fateh-Tejo pampering her. Tejo calls Naaz to join them. Naaz drops her ice cream. Fateh goes to get a new ice cream. Naaz leaves from there on the pretext of finding her clip band. She pushes Nehmat's cycle. Meanwhile, Fateh says to Nehmat that he feels proud that Nehmat cares for Naaz. Nehmat promises Fateh to always take care of Naaz. Here Naaz angrily breaks Nehmat's cycle with a stone.
The episode ends.
Click to read