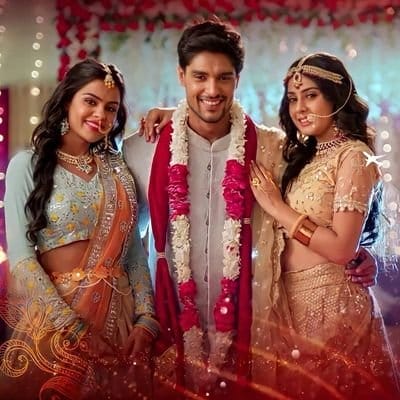 Udaariyaan 15th June 2022 Written Update on TellyExpress.com
The episode starts with Fateh and Tejo being on the way to the ashram. Meanwhile Jasmine is looking for Tejo in the fair. Tejo and Fateh reach ashram. Tejo introduces Fateh, her groom, to Amma and her friends. They all get surprised on seeing him. Tejo says that they went to the fair and had fun. She adds that Fateh got bangles for her in the fair. Amma says to Tejo to pack her bags to go with Fateh. Tejo refuses as she's scared that Tejo will go leaving her again. Fateh assures Tejo that he will never leave her.
Jasmine phones to the ashram to know if Tejo has returned. As no one answer the call, she decides to go there and check by herself. Amma asks Fateh how she can believe that he is Fateh. The latter shows his photo with Tejo and says about the fire accident happened six months before. He promises to take good care of Tejo. He requests Amma to let him take Tejo home. Amma says that she can see his truth in his eyes, but even if he takes Tejo home, nothing will be like before as Tejo had a memory loss aand she gets panic attacks which will difficult for him to handle.
Meanwhile Tejo gets scared on seeing a burning lantern. She shouts and gets a panic attack. Fateh gets shocked on witnessing this. Amma and other girls try to calm Tejo down, but in vain. They pour water over Tejo. Fateh comes to Tejo and hugs in order to pacify her. They pour water over both them. Tejo friends takes her in.
Jasmine ties Tanya to a chair. Jasmine gets determined to not let Fateh and Tejo United and decides to go to ashram. Fateh requests Amma to send Tejo with her. Amma says that Tejo isn't the same girl whom he loved and asks if his family will accept her since her world is different from his. Fateh says that Tejo is his world. Amma agrees and gives Fateh a month time and adds that the ashram's door will be always opened for Tejo. Fateh calls Tanya. He wonders why she is not answering his calls. There Jasmine has Tanya's phone. She says that she will remove from her way whoever wants to unite Fateh and Tejo. Here Tejo bids an emotional adieu to Amma and her friends. She leaves with Fateh.
Fateh brings Tejo to the Sandhus. Tejo asks if this their house to which Fateh says that this is her parents house. He takes her inside the house. Tejo gers falshes of her past and she faints. Fateh makes Tejo lay on the couch. Sandhus come there and get worried on seeing Tejo unconscious. Fateh assures them that Tejo is fine. They ask why she is wearing this dress. Meanwhile Jasmine enquires in the ashram about Heer and learns that Fateh took her with him shocking Jasmine. Here Fateh tells the Sandhus aboutTanya's truth. He says that Tanya was staying with them till that day. Sandhus get shocked and refuse to believe it.
Fateh narrates everything happened in London. There Jasmine is angry and throws stone at the barnala name board. Here Fateh says that Tejo was alive and staying was in ashram. He adds that Tanya made her meet her. He explains Tejo's condition and says that they have to help her to recover her memory. Abhiraj asks how they can agree that she's Tejo. Rupy remembers Tanya's behavior and says that they never had a feeling of Tejo with Tanya. Fateh tells to all to keep Tejo away from fire and to not use sister word in front of Tejo.
The episode ends.
Precap: Jasmine says to Tejo that no one can save her from her this time. She stabs Tejo shocking all. Fateh shouts Tejo. Tejo dies.
Click to read