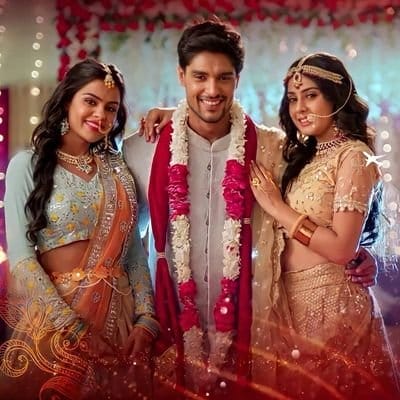 Udaariyaan 16th July 2022 Written Update on TellyExpress.com
The episode starts with Fateh getting Buzz's call. He talks to him and hangs the call. He just noticed Tenors many missed calls. He gets worried and calls Tejo. But he isn't able to reach her. So he calls Sunita and her phone is also unreachable. Fateh rushes to find Tejo. There neighborhood kids are annoying Tejo calling her mental. Tejo is crying hitting the plate. She shouts Fateh. Just then Fateh arrives there. He chases the kids. He finds the gate locked. He broke the lock and goes in.
Tejo hugs Fateh crying. Fateh consoles her. Tejo gets angry with Fateh for leaving her alone. He apologizes to her. He asks her about the phone. Tejo ssaysthat she broke the phone getting angry when he didn't answer her calls. Fateh gives her water and pacifies her. Just then Sunita comes there. Fateh scolds Sunita for leaving Tejo alone in the locked house. She gives an excuse. Fateh pays her money and fires her from her work.
The neighbors come to Fateh. Tejo gets scared. Fateh asks Tejo to stay here and goes to talk to them. The neighbors complain to Fateh about Tejo's behavior. They say that she scared their kids and hit a boy. Fateh says that their kids annoyed her. They ask Fateh to leave taking Tejo or send her to the mental asylum else they will call police. Fateh asks them to give him one day time. They agree and leave. Fateh wonders what to do. Fateh comes back to Tejo. The latter cries hugging Fateh. She cries and says that they all bad people and she doesn't want to stay here. Fateh says that he ousted them. Tejo gets calmed down.
Gurpreet comes to the Sandhus and says that Tejo was locked in for three hours. Rupy refuses to believe her as Fateh is there to look after her. Gurpreet reminds him that Fateh has to leave Tejo alone while going for the work. She says that Fateh got warning to vacate the place because of Tejo and says that the neighbor informed Buzo about it. She says that court doesn't valid their marriage and asks them to convince Fateh to cancel the marriage. Satti refuses stating that they're happy together.
Meanwhile Fateh is stunned when Tejo comes wearing his shirt. They both play happily and sleep hugging each other. Here Satti says that Tejo will decide about their marriage after she will get well and says that they can't cancel their marriage. Satti says that Fateh and Tejo love each other. Rupy says that Fateh's love can cure Tejo. Jasmine watches this hiding. She wonders why Gurpreet became silent. She thinks of provoking her. She makes a video call to Yash and asks him to do a dance step and shows it to her family. She pretends that she didn't notice Gurpreet. She makes her family talk to Yash and hangs the call.
Jasmine apologizes to not introduce Gurpreet to him as she doesn't know with which relation to introduce her. Jasmine further says that Yash wants them to move to Canada after marriage so that her child can get Canadian citizenship. She adds that Yash's parents will visit their house to talk about marriage and leaves.
Fateh wakes up startled after seeing a nightmare in which Tejo was locked in and was shouting Fateh. He gets worried how to protect Tejo and recalls neighbors warning. The morning Satti brings food for Fateh and Tejo and requests him to accept this. Fateh apologizes for what happened the previous day with Tejo and says that she might think that he can't look after Tejo. Satti denies it and says that but he can't take care of Tejo alone. He needs someone's support. She requests to move to their house.
Fateh and Tejo move to the Sandhus. Fateh puts worth two condition to stay there. He says to Rupy that first condition is he will pay rent for staying here and the second is he will do Tejo's all works. Rupy hugs Fateh feeling lucky that Tejo got Fateh. Gurpreet cries learning about Fateh moving to the Sandhus house with Tejo. Kushbeer taunts Gurpreet that she's selfish so Fateh left her and warns her that she will lost him forever if she doesn't mend her ways. Gurpreet cries hard. Jasmine is surprised on seeing Fateh in her house. Fateh warns Jasmine to not try to harm Tejo and leaves for work. Jasmine smirks thinking that she made him come here.
The episode ends.
Precap: Jasmine says to Gurpreet that she's going to meet Yash's parents. Gurpreet asks her to go and meet them shocking Jasmine. Tejo cares Fateh. Sandhus gets happy seeing this. Jasmine vows to get Fateh at any cost.
Click to read