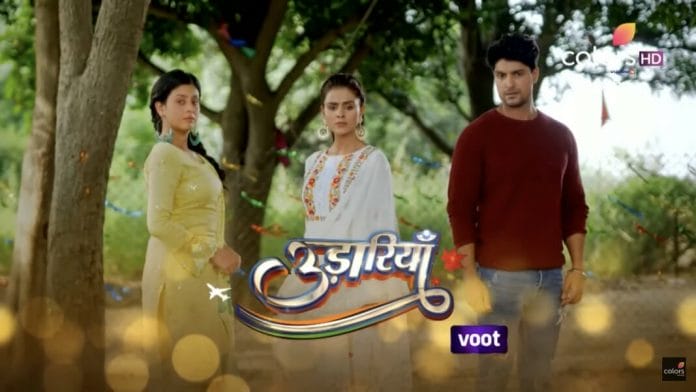 Udaariyaan 16th September 2022 Written Update on TellyExpress.com
The episode starts with Fateh saying to Nehmat that they want to adopt Naaz. Tejo says that they want Nehmat and Naaz to always be together as sisters even though if they aren't with her. Meanwhile, Kushbeer tells Naaz and the Sandhus about Fateh and Tejo's remarriage. He adds that this was Nehmat's idea. Naaz gets upset, thinking that Nehmat will get more attention at Fateh and Tejo's wedding as it's her parents' wedding. Here Nehmat approves Fateh and Tejo's decision to adopt Naaz and expresses her joy. She wants to talk to Naaz immediately. But Fateh and Tejo stop her by saying that they will tell Naaz after their wedding.
Fateh and Tejo show the clothes they shopped for their wedding. The family wants to see Nehmat and Naaz's dresses. Nehmat remembers that she forgot to invite Mallika to Fateh and Tejo's re-wedding. She goes to invite Mallika, saying to try Naaz's dress on her. Nehmat meets Mallika and tells her about her parents' re-wedding. Mallika gets elated. However, she gets angry when Nehmat says that she has to practice dance steps with Naaz to perform at her parents' wedding. Nehmat convinces Mallika.
Meanwhile, Tejo makes Naaz wear her dress. She gives Naaz her earrings and puts Nehmat's earrings in the locker. Tejo leaves. Naaz sees Nehmat's dress. She imagines herself in Nehmat's dress. She says that she wants everything that belongs to Nehmat. She opens the locker to take Nehmat's earrings. Naaz finds Jasmine's letter in the locker. She recognizes that this is the same letter that Jasmine gave her, asking, to hand to Rupy. She reads the letter and learns that Jasmine abandoned her and will never return. She breaks down in tears. Tejo comes back and is shocked to find Naaz in tears. She sees Jasmine's letter next to her. She understands that Naaz read Jasmine's letter. Tejo consoles Naaz and assures her that they are all with her and Nehmat will always be her. She hugs Naaz. The latter thinks whether her wish really got fulfilled and everything belongs to Nehmat became hers now.
Fateh and Tejo's Haldi ceremony is going on. Nehmat clicks their picture.Then Nehmat and Naaz apply haldi on Fateh and Tejo's cheek. Tejo dances to the song mere hatho me no no. Fateh joins Tejo and dances to the song Mehndi Laga ke rakhna. Tejo is elated to see the family and Nehmat-Naaz happy. She says that Fateh's idea of adopting Naaz is a good idea. She is excited about bringing Naaz to their house after their wedding. Fateh hugs Tejo.
Gurpreet gets worried when the aarti plates fall down. Fateh reassures Gurpreet. Nehmat says that Fateh and Tejo didn't see each other till the wedding. Naaz agrees with Nehmat. Gurpreet and Satti pray for Fateh and Tejo's happiness. On the wedding day at the resort, Nehmat records a video of everyone in the family and asks them to say a few words about Fateh and Tejo. Nimmo says some words. Naaz takes Nehmat from there. Nimmo asks Gurpreet who she is and why Nehmat is calling her sister when Tejo can never become a mother. Gurpreet says that Naaz is Jasmine's daughter.
Mallika and Ekam arrive at the wedding venue. Mallika happily hugs Nehmat and she's not happy to see Naaz. Ekam and Nehmat get into an argument about the marriage topic. Ekam claims to never get married, while Mallika asks what he will do if he falls in love with someone. Ekam is certain that it will never happen. Mallika stops their fight and wonders why they always fight. Nehmat asks Naaz to take care of Mallika and not to fight and leaves. Mallika angrily walks from there. Naaz goes after her.
Nehmat records Fateh's video and asks questions about Fateh and Tejo's love story. Fateh says that his love story with Tejo started with their fight. He says that those are destined to meet each other. Nehmat then records Tejo's video. Tejo says that love is selfless and in love people care about each other's happiness. Nehmat says that she doesn't like boys. Tejo says that she was like Nehmat till she met Fateh.
Fateh comes to Tejo's room. Tejo hides her face from Tejo as per ritual bride and groom shouldn't see each other. They recall their first wedding. Tejo says that their first ended as they saw each other face before wedding. Fateh back hugs Tejo. He promises to always be with Tejo even in death. Fateh diverts Tejo in talk and sees her face. Tejo turns her face away reprimanding him for seeing her face before their wedding. Fateh hides hearing Nehmat's voice. Tejo urges him to leave. Later Fateh and Tejo get married again.
The episode ends.
Precap: Fateh and Tejo dance. Fateh and Tejo leave in the car. Their car meets with an accident and explodes. Nehmat and Naaz cries hugging each other after learning about the accident.
Click to read